Interview: Johan Carlsson - CTO, Volvo Penta
Greg Trauthwein was recently afforded the opportunity to test drive Volvo Penta powered boats off the coast of Sweden & interview Johan Carlsson, CTO, Volvo Penta.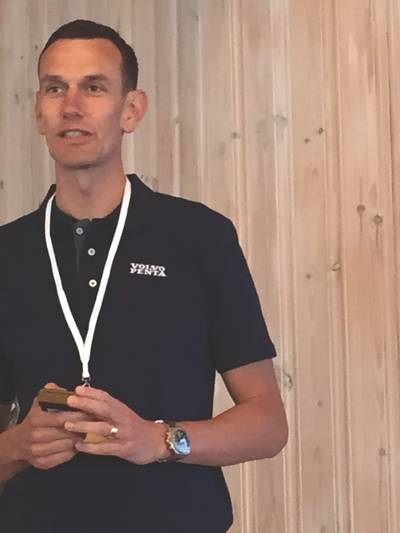 In your role as CTO you have to meld and rationalize regulation, customer demands and manufacturing issues: which do you find the most challenging?
You get a lot of opportunities coming from technology and a lot of pressure coming from legislation, and a variety of customer demands (realizing that each customer and their situation is unique). In understanding our own manufacturing capabilities (and challenges), in understanding the specifics of regulation, and in understanding what are the actual customer requirements, it is the third one that is always the trickiest. So I tend to over-invest on the customer dialogue side to understand what they actually need. Technology we can figure out; Legislation is written; but really understanding the customer's need is important.
Can you give an example?
I can. The Offshore Wind Farm vessel (Njord Offshore) catamaran is a good example. (When we looked at the project) We had to ask what is really needed to run this vessel effectively (and safely) in a wind farm; you want a good TCO, you want good fuel consumption, but you also want a nice bollard push when you get up there to deploy people in a safe manner. You want to ensure that you have the appropriate technical solution, which you can only get if you really dig into the owner/operator's needs.
So how do you ensure this is accomplished within your organization?
I really like the way that we are organized in Volvo Penta. Within my responsibility as CTO I have the R&D department, I have purchasing and supply, but I also have product management, which is the glue that connects the customer into the specifications.
I would assume that belonging to the larger Volvo Group would offer some advantages. Can you discuss how Volvo Penta benefits from this association?
There is one simple example. I am going this afternoon to a board meeting at a company called CPAC Systems, a company that we founded from Volvo Penta. It is a technology business that developed the EVC systems that stitches together all of the different systems, and they are very innovative in the on-road/truck side. CPAC Systems develops components which go into making customer solutions in all of the different sectors. It is run as a small entrepreneurial company, meaning it can easily touch the end customer, understand their demands, and pull this back to (develop) innovative technology. We get the volume by leveraging this in all of the different sectors across the Volvo Group, and we get additional ideas by cross-fertilizing those components.
Big Data: What does it mean to you? Put in perspective the use of data and analytics throughout the lifecycle of your products.
In one sense it is a defining trend. It is a platform that will help us meet customer demands even better. To better manage the cost; manage the up-time; manage the way the vessel is operated. That's one aspect. The other aspect is, in general as a society, there is a danger of throwing a new technology out there just because we can. For me, the maturity of (a given) technology may already be there, but the key is how to translate it into useful actions. That's where we are focusing.