24m Catamaran Ferry Delivered by Incat Crowther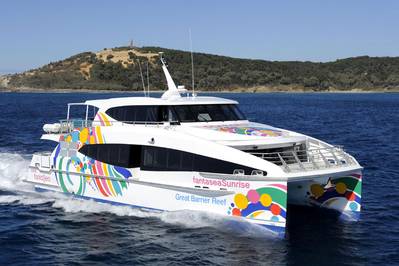 Incat Crowther is pleased to announce the launch, trials and delivery of the 24m Catamaran Ferry Fantasea Sunrise.

In June, Incat Crowther announced the sale of the vessel to prominent Great Barrier Reef operator Fantasea Cruises. Since that announcement, Brisbane shipyard Aluminium Marine has tailored the vessel for Fantasea's operation, including interior lounges and the application of striking graphics inside and out. Fantasea Sunrise is fitted with 119 seats in the main deck cabin and 38 lounges seats in the upper deck cabin. A large bar/kiosk has been installed aft in the main deck cabin. Three toilets, one of which is wheelchair accessible, are located on the aft main deck, whilst an additional toilet is located on the upper deck. The vessel has undergone successful sea trials which proved the virtues of Incat Crowther's highly efficient and stable hull form. Powered by a pair of Yanmar 6AYM-GTE main engines, the vessel sets new standards for fuel efficiency, providing good cruising speed with low capital costs and modest running expenses.

Fantasea Sunrise comfortably exceeded her contracted loaded service speed of 25 knots, and achieved a top speed in excess of 28 knots. As well as being efficient, the latest-generation hull form provides a very stable platform, offering greater passenger comfort and sea keeping, which is ideal for the offshore route it will be utilised on.

SPECIFICATIONS – 24m CATAMARAN FERRY / PRINCIPAL DIMENSIONS
Length Overall 78' 9" / 24.0m
Length Waterline 78' 1" / 23.8m
Beam Overall 27' 11" / 8.5m
Draft (hull) 3' 7" / 1.1m
Draft (prop) 5' 7" / 1.7m
Depth 9' / 2.75m
Construction Marine grade aluminium
CAPACITIES
Fuel Oil 1585 gallons / 4 000 litres
Fresh Water 264 gallons / 1 000 litres
Sullage 264 gallons / 1 000 litres
Passengers 157 internal + 40 external
Crew 5
PROPULSION AND PERFORMANCE
Speed (Service) 25 knots
Speed (Max) 28 knots
Main Engines 2 x Yanmar 6AYM-GTE
Power 2 x 618kW @ 1900rpm
Propulsion 2 x Propellers
Generators 2 x Izuzu 6BG1 72 kVA
REGULATORY
Flag Australia
Class / Survey NSCV/USL 1C
• Great Barrier Reef