ABS Issues AIP for Ammonia-fueled Containership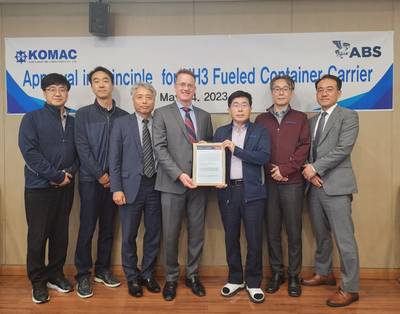 Classification society ABS informs it has awarded an approval in principle (AIP) to Korea Maritime Consultants Co., Ltd. (KOMAC) for a the design of a new containership engineered to run on ammonia fuel.
The 3,600-TEU vessel is a design from KOMAC to address what they forecast as an increase in market need for small-scale, ammonia-fueled vessels.
ABS said it conducted a comprehensive review and participated in the risk assessment of the ammonia fuel system in the AIP process to address safety and reliability.
"Ammonia offers both significant potential to contribute to shipping's emissions reduction challenge and significant challenge due to its toxic properties. ABS is leading the industry in developing solutions to this safety challenge and supporting first movers like Komac to take advantage of ammonia's zero-carbon potential," said Panos Koutsourakis, ABS Vice President, Global Sustainability.
Lee Sung-Ryong, Head of KOMAC's think tank, said, "KOMAC offers Korea's best engineering and technology services for shipbuilding. By providing these services to international and domestic small and medium-sized shipyards, we are supporting the revitalization of these important facilities."
Ammonia is among a number of alternative fuels being explored by the commercial maritime industry to help curb emissions.