ABS Signs On Dual-fuel Ammonia Carrier Project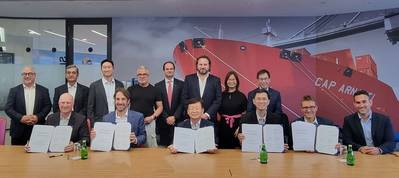 Classification society ABS announced it has signed a memorandum of understanding (MOU) to review an innovative new design from HD Hyundai Heavy Industries (HHI) for a dual-fuel, very large ammonia carrier (VLAC) for Eastern Pacific Shipping Pte. Ltd. (EPS).
ABS joins project partners EPS, HHI and HHI Engine & Machinery Division, MAN Energy Solutions and the Maritime and Port Authority of Singapore.
Fueled by ammonia and liquified natural gas (LNG), the 88K/93K cbm vessel design is expected to meet the demand for greenhouse gas reduction, in compliance with the latest International Maritime Organization (IMO) emission regulations. Four vessels are planned for construction at the HHI Ulsan shipyard in Korea.
"ABS is honored to join EPS and this esteemed group of companies. With our technical expertise, long successful history with gas carriers and cutting-edge work in decarbonization and sustainability, we are the ideal partner to join this project. ABS is committed to leading the industry in supporting ammonia's safe adoption at sea," said John McDonald, ABS president and COO.
EPS CEO Cyril Ducau said, "We have been talking about energy transition and lowering emissions for years. Today, we are ready to talk about zero-emission solutions. The ammonia engines by MAN ES will be an inflection point for the maritime industry. In the next few years, we expect to operate vessels with significantly reduced emissions running on ammonia. Dual-fuel engines like LNG, LPG, and ethane will still play a significant role in various segments. However, with this engine, it will mean that this will be the first time that ocean going vessels will take a significant step towards zero carbon emissions. This is a an extremely exciting time for all of us."