All-electric Paddlewheeler Tours Texas Lake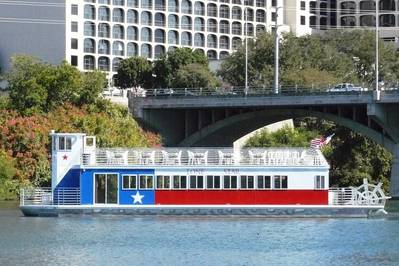 Winding its way through downtown Austin, Texas, is scenic Lady Bird Lake, a gas-restricted reservoir of the Colorado River. Lone Star Riverboat Cruises guides visitors through the picturesque surroundings in Lone Star, a 75-foot double-decked paddlewheel, powered by twin Torqeedo 40-horsepower Deep Blue outboards.
Capt. Mike Pearce began Lone Star Riverboat Cruises with a diesel-powered paddleboat and an exemption to operate a fueled vessel on the lake. When the boat became too old to use, Pearce went all-electric.
As his business grew, so did his fleet. With a five horsepower restriction in place, even his small 32- and 35-foot pontoons were often under-powered on windy days, not to mention the two-level Lone Star. Needing more power, Pearce, who has a city contract, was approved for an exemption to the horsepower limit for the paddlewheel.
Pearce invested to replace the small outboards with 40-horsepower Torqeedo Deep Blue motors. "It has a lot of power compared to what I was using. My captains have so much more control of the boat now," he said. "And we can recharge the lithium batteries in between cruises—we can go all day if we want to." Lone Star can take up to four cruises a day, each lasting from one to two hours.
Torqeedo's Deep Blue is a fully integrated propulsion system. It brings together the high-voltage 33-kilowatt-hour motor and single 13-kilowatt-hour battery, charger and connection box, and electronic remote throttle and on-board computer with touchscreen. It has a range of 23-37 miles range at 4 knots, and 10-13.5 miles at full throttle.
Pearce said his decision to go with Torqeedo pays off when it's time to renew his city contract. "My business is a concession," he said, "so every time my agreement comes up, I put in the proposal that we're all electric—even the big boat." Austin is known for its favorable view on environmentally-responsible businesses.
He also uses this angle to market his tours. His narrated cruises focus on the natural beauty of the lake's flora and fauna, so guests are free from the noise and diesel fumes commonly associated with small tour boats.