Amogy to Open $40 Million Houston Manufacturing Facility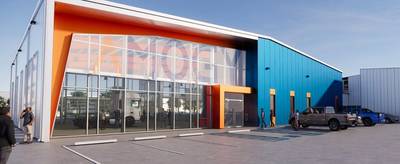 Amogy, developer of emission-free ammonia power solutions, on Tuesday announced it will open a new manufacturing facility in the energy and maritime hub city Houston.
The Brooklyn-headquartered company said it will invest more than $40 million to renovate a 53,000-square-foot manufacturing facility that was formerly used to produce oil and gas equipment. The site is located within four acres of space that Amogy leases.
Set to be operational in early 2024, the facility will be used for the assembly manufacturing of Amogy's "powerpack" clean energy solution, which enables carbon-free mobility for sectors such as shipping, transportation and stationary power generation. The company's ammonia-to-power technology feeds liquid ammonia through its cracking modules integrated into a hybrid fuel cell system, which powers electric motors.
"We chose Houston as the 'energy capital of the world' because we wanted to be near customers, suppliers, and the right talent as we ramp up operations. We are eager to begin manufacturing so we can deliver to customers globally," said Seonghoon Woo, CEO and co-founder of Amogy.
"The Amogy Houston site will be a state-of-the-art facility able to manufacture our clean energy solution at scale," said Daniel MacCrindle, chief operations officer at Amogy. "We are working quickly to hire and equip the facility so we can begin production."
The company said it expects to employ approximately 200 team members at its Houston facility by the end of 2024.
Amogy is currently converting a 1957-built tug at Feeney Shipyard in Kingston, N.Y. to run on its 1-megawatt (MW) system. Amogy said it intends to trial the tugboat later this year in upstate New York.