Amogy Reveals Details for Ammonia-powered Tug Conversion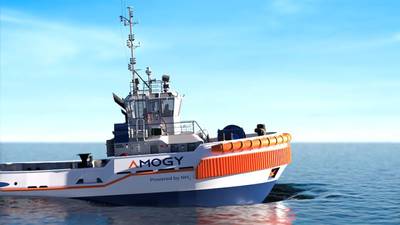 Ammonia power solutions company Amogy on Monday said it plans to unveil a first-of-its-kind ammonia-powered, zero-emission tugboat in late 2023.
The Brooklyn, N.Y-based company revealed during CERAWeek 2023 that it is retrofitting a 1-megawatt version of its ammonia-to-power system onto a 1957-built tug at Feeney Shipyard in Kingston, N.Y. Amogy's ammonia-to-power technology feeds liquid ammonia through its cracking modules integrated into a hybrid fuel cell system that provides zero-carbon power to the electric motors.
Ammonia, which does not emit CO2 when used as a fuel, has been gaining interest in the maritime industry as vessel owners and operators seek options to decarbonize. Green ammonia produced with renewable energy results in zero well-to-wake greenhouse gas emissions.
Amogy was founded in 2020 by four MIT PhD alumni and to date has raised $70 million in funding from strategic investors such as Amazon, Saudi Aramco, SK Innovation, AP Ventures and DCVC.
Seonghoon Woo, CEO of Amogy, said, "[The tug conversion] is the first milestone of many you will see from Amogy in accelerating the accessibility and scalability of clean energy in the global maritime industry. With successful demonstrations of our ammonia-powered drone, tractor and semi-truck under our belts, we look forward to presenting the first ammonia-powered ship in 2023, with a target to fully commercialize in 2024."
Feeney Shipyard, from whom Amogy sourced the tugboat, is leading retrofitting construction, engine removal and more under supervision of C-Job Naval Architects, the independent ship design company integrating the ammonia system. Other partners contributing to the project include electrical systems integrator Seam, which will deliver the power system, integrated automation system and safety system through its e-SEAMatic brand, as well as a battery system and electrical motor for main propulsion. Also invlovled is Unique Technical Solutions (UTS), the electrical and systems integrator from Amogy's prior demonstrations, for the electrical and systems work involved in scaling up the powerpack for pre-commercial use.
Yara Clean Ammonia (YCA), one of the world's largest ammonia producers, and the largest trader and shipper of ammonia around the world, will be provide green ammonia for the demonstration.
Amogy said it intends to sail the tugboat later in 2023 in upstate New York, pending further safety testing and regulatory discussions. The company noted it is working with the U.S. Coast Guard and partnering with classification society DNV to ensure close alignment with all maritime safety standards.
"DNV has been working with Amogy since December 2021, focusing on the safety aspects of the development of their ammonia system," says DNV's Senior Consultant in Maritime Environmental Technology, Hans-Christian Wintervoll. "A high-level feasibility study was executed in early 2022, and Amogy has shown great momentum in development from that point, through the HAZID workshop in June the same year, to the HAZOP workshop in January this year."