US Boatbuilding Students Can Get a College Degree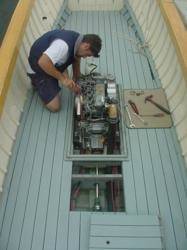 Roger Williams University & IYRS partner on program to offer IYRS graduates credits toward degree programs.

As part of a strategy to offer students a direct pathway from experiential training programs focused on craftsmanship and technical skills to a comprehensive college education that results in an associate or bachelor's degree, Roger Williams University and marine trades and technology school IYRS have joined forces on a partnership that will allow IYRS graduates to apply elective credits toward degree programs offered at the University's School of Continuing Studies.

"Many of our younger students, passionate about working with their hands and building things, also want a two- or four-year degree that enriches their lives and offers broad opportunities," says IYRS President Terry Nathan. "Partnering with Roger Williams achieves this goal. RWU is a great school with a beautiful campus. Importantly, we share common values and educational principles."

Through the agreement, the University will award 15 credits to students who have completed the Marine Systems or Composite Technology programs at IYRS and matriculate in the bachelor of general studies, associate in arts or associate in science programs at Roger Williams. IYRS students who complete the two-year Boatbuilding & Restoration program will be granted 30 credits toward the bachelor of general studies or associate programs at RWU.

The credits will be applied toward elective requirements in both the bachelor's and associate programs. Students who enroll in the bachelor of general studies program will be encouraged to pursue the Technology Leadership and Management concentration. In order to apply the IYRS credits, students must apply and be accepted to the University; the application fee will be waived for IYRS graduates.