Brunvoll's Propulsion and Manoeuvring Packages for Purus Wind's CSOVs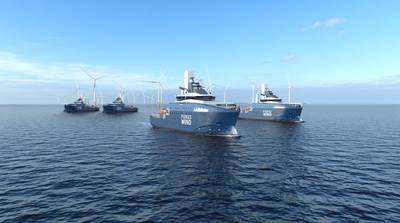 Norwegian firm Brunvoll has secured a contract to deliver propulsion and manoeuvring packages for Purus Wind's two new Commissioning Service Operation Vessels (CSOV).
Each vessel will be outfitted with two azimuth thrusters for propulsion, and two retractable azimuth thrusters and a tunnel thruster for manoeuvring The scope of supply features also Brunvoll's Propulsion and Thruster Control system, Brucon PTC.

"The offshore wind market will be an important segment for Brunvoll in the coming years and with these additions to our orderbook we already have good visibility for factory utilization in 2024," says Kare Øyvind Vassda CEO at Brunvoll Group.
According to Brunvoll, the propulsion thrusters feature"the latest and greatest" improvements to meet the increasingly stricter requirements for rapid, safe, and accurate DP operations for SOVS/CSOVS.
"This includes significantly improved azimuth rotation speed, increases propeller acceleration/deceleration, and arrangements for increased thrust efficiency in terms of reduced thruster and hull interaction," Brunvoll said.
Combined with the two retractable azimuth thrusters and the tunnel thruster in the bow, the vessels should be ideally equipped with regards to the operational requirements, DP accuracy, and overall performance, Brunvoll added.
The vessels, which are of VARD 4 19-design, will be approximately 87 x 19,5 meters with a capacity of 120 people. The design is optimized for low fuel consumption, high operability, and comfort.

Delivery of the vessels will be in Q2 2025 and Q2 2026. The first vessel will be delivered from one of VARD's yards in Norway. The other vessel will be built by VARD Vung Tau in Vietnam. There are options two build two more vessels, and for Brunvoll to provide propulsion and manoeuvring sytems for them, too. The two options are also planned to be built both in Norway and Vietnam.


---