BYD Designing Electric Vessel for Ottawa Boat Cruises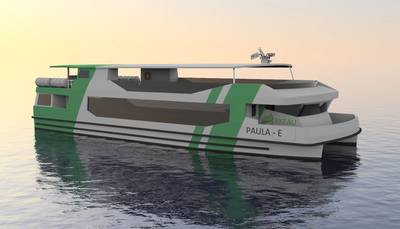 BYD-Naval Architects has secured a contract to develop the design for a new electric 27-meter passenger catamaran for Ottawa Boat Cruises as part of their initiative to continue delivering zero emissions tourism to Canada.
Robert Taillefer, president of Ottawa Boat Cruises, said, "Ottawa Boat Cruises is a leader in sustainable technology innovation. They built the first certified 100% electrical boat in the world in 2016. Their second electrical boat was built in 2022 and they are now building two new electrical vessels. It's with this mindset that OBC makes it its mission to implement a sustainable, accessible tourism experience that empowers every single visitor to do their part in saving the planet."
The design is underway with construction RFP's due to release in the later part of 2023, BYD said.
BYD developed an ultra-low resistant hull form specifically for this project to help reduce energy consumption while not compromising passenger capacity. This vessel will be capable of carrying up to 500 passengers and be set for sightseeing or dining events. The main deck is enclosed with washrooms and a generous bar area while the upper deck will remain open for exterior sightseeing.
Jami Buckley of BYD-Naval Architects, said, "This is an exciting project for the marine market and will push eco tourism to a new frontier in Canada and the U.S. We feel the success to decarbonizing the marine industry is with making efficiency gains wherever possible and reducing energy consumption in all areas. We lean on some of the mindsets from across industries to make these zero emissions platforms the best they can be."