Camarc Patrol Boat Fitted with UJ305 Ultrajets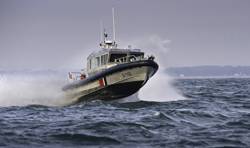 Raidco Marine has delivered 4 of the first of a series of 11 Patrol Boats to the Gendarmerie Nationale.
Designed by naval architects Camarc, this new patrol boat has been sold by Raidco Marine, Lorient, and built by Ufast in Quimper, France, within weight targets and during trials has achieved speeds in excess of the required 33 knots. With new features for monitoring and intervention, this newly designed 11m patrol boat from Camarc is completely different from previous patrol boats delivered by Raidco Marine. Using VSMP modeling (virtual symmetric multiprocessing architecture) these Camarc vessels are designed to provide coastal surveillance missions in the nautical band 5 and are unsinkable! Thanks to its hard chine deep V-shaped hull the vessel combines high performance and exceptional sea keeping qualities for its patrolling roles and is capable of reaching high chase speeds.
The UFC 11.00 Alu is powered by twin Yanmar 6 LPA STP 315 hp engines @ 3800 rpm coupled to twin Ultra Dynamics' UltraJet UJ305s waterjets via ZF63 reduction gearboxes; during sea trials the patrol boat reached a speed of 34 knots! Reverse and steering is via an Ultra Dynamics hydro-mechanical control system. The patrol boat features a wheelhouse providing a maximum 360o field of view complete with a mini galley, work station, dinette and toilet, enabling 6 people to cruise comfortably.
Designed for the Gendarmerie Nationale, these boats will survey the French coasts against all kinds of risks – drugs, terrorism and immigration. The following 7 patrol boats, fitted with UltraJets will be delivered by the end of June 2012.

UFC 11.00 Alu Specification:
Designation: Patrol Boat

Designer: Camarc Ltd

Prime Contractor /Builder: Raidco Marine, Lorient /Ufast, Quimper, France

Owner/Operator: Gendarmerie Nationale

Length overall: 11,60m (38')

Beam: 3,55m (11.6')

Draft: 0,70m (2.3')

Hull: Deep V

Hull material: Aluminium

Displacement: 8 tonne (17,632 lb.)

Power: 2 x Yanmar 6LPA-STP 315 hp (232 kW)

@ 3800 rpm diesel engines

Propulsion: 2 x UltraJet UJ305 waterjets

Speed: 34 knots

Gearboxes: ZF63 1.514:1 reduction.

Reverse Control System: UltraJet Hydromechanical

Steering: Manual hydraulic

Passenger capacity: 6

Fuel capacity: 800 litres
• Camarc Ltd. • France