Canada's First Fully Electric Tug Arrives in Vancouver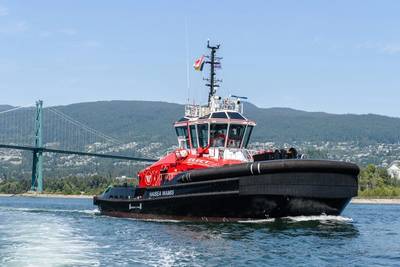 This week, Canada welcomed the arrival of the its first fully electric tugboat, HaiSea Wamis.
Built by Sanmar Shipyards in Turkey, the vessel is the first in a series of three Robert Allan Ltd. designed ElectRA 2800 battery electric harbor tugs being constructed for HaiSea Marine, a joint venture partnership between the Haisla First Nation and Seaspan ULC.
Together with HaiSea's incoming dual-fuel (liquefied natural gas [LNG] and diesel) escort tugs, the fleet will make the voyage up the Douglas Channel to Kitimat where it will be based to provide ship-assist and escort towing services to LNG carriers calling at LNG Canada's new export facility in the traditional territory of the Haisla Nation.
"The arrival of the HaiSea Wamis is a special moment for our team and our partners and represents a dream coming true. I look forward to the moment when the Wamis sets sail for Kitimat and boards its first crew of six - all from the Haisla Nation," said Jordan Pechie, senior vice president of Seaspan Marine Transportation.
The ElectRA 2800 is a new series of battery electric harbor tugs specifically designed to meet the unique requirements of assisting LNG carriers on and off the berths at the LNG Canada terminal.
The three fully electric tugboats will be ABS classed and equipped with Corvus' Orca Energy ESS, each vessel having a total battery capacity of 5,288 kWh to drive two Schottel azimuthing L-drive propulsion units powered by electric motors integrated on top of each unit. Each tug will also feature a pair of Caterpillar C32 generators, though the operator notes that all operations will be completed 100% on electricity.
With hydroelectric power available at Kitimat, the harbor tugs will be able to recharge from shore charging facilities at their berths between dockings, resulting in near-zero-emissions when running on batteries.
The two dual fuel LNG tugboats are 40-meter RAstar 4000-DF escort tugs and with 100 tonnes of bollard pull, making them the most powerful on Canada's west coast.
ElectRA 2800
Dimensions
Length overall: 28.4 meters
Breadth, molded: 13 meters
Draft, navigational: 5.9 meters
International Gross Tonnage: 472
Capacities
Total battery capacity: 5,288 kWh
Diesel oil: 101.3 m3
Complement
Crew: 4 persons (regular complement)
Maximum accommodation: 6 persons
Speed
Full Speed: 12.0-12.5 knots (approximate) on batteries only
Endurance Transit: 8-10 knots on generators
Bollard Pull
65 tonnes through-life
70 tonnes (approx.) on batteries at trials
35 tonnes (approx.) on generators