Caterpillar Marine Rolls Out New Azimuth Thrusters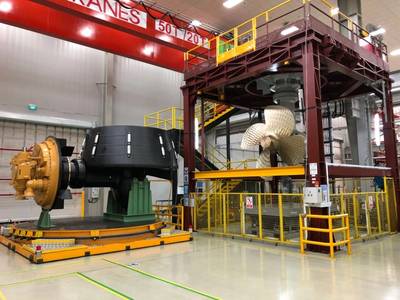 Caterpillar Marine announced that its latest generation of azimuth thrusters, the new MTA v3, is now on the market.
The MTA v3 lineup currently covers the entire Cat 3500 range with the MTA 524, 627 and 628 from a power range of 1,500-2,525kW. It provides the large savings in maintenance costs, lower maintenance and service risks, and simple FiFi installation, the manufacturer said.
"The addition of the new MTA v3 to our marine product program really completes our offering to the tug segment and provides a leaner, simpler and more efficient integrated solution to our customers," said Jorgen Karlsson, Caterpillar Marine's Tug and Salvage Segment manager.
The thruster unit and nozzle has been optimized for minimum resistance and maximum performance, with optional nozzle profiles available depending on operation profile. In comparison to the MTA v2, the MTA v3 is 20 percent lighter in weight, has decreased oil volume by 27 percent and has an increased power density of 25 percent. Additional improvements from previous MTA generations include a 3 percent bollard pull increase. The normal auxiliaries for azimuth thrusters such as hydraulic power pack, gravity tank, filters, cooler and clutch hydraulics have all been integrated onto the azimuth unit itself. The result is reduced space consumption and installation time.
With the introduction of the hybrid interface it enables switch ability between mechanically and electric power for the azimuth thrusters. Hence, users can achieve a higher average engine load by running only the necessary engines or generator sets dependent upon the operation mode. This creates the possibility for reduced fuel consumption. Reduced maintenance costs can also be achieved by running fewer hours on the main engines.
Caterpillar said the hybrid system offers higher average engine load, less running hours on main engines, possible the swing genset program for maximum up-time and increased redundancy.
Users can select between different modes of operation to provide the best drive experience based on their performance needs.
Standby and Low-Speed Transits can be operated on full diesel-electric mode. This mode adds the benefit of reduced fuel and maintenance consumption by using smaller gensets instead of propulsion engines. It also reduces NOx emissions with a higher engine load factor.
High-Speed Transit and Light Towing mode can be operated on full power with the main engines powering thruster and electrical load from the gensets.
Full Power mode provides the maximum performance available. The main engines and booster motors operate together to achieve full power, providing the maximum performance available. Full power operation also provides the best possible acceleration from the engine and gensets.
Fire Fighting mode where FiFi pump is powered by the main engines while the azimuth thrusters are powered by genset and electrical motors.
• Caterpillar • oil volume