CCS Grants AiP for Liquid Hydrogen Fuel Supply System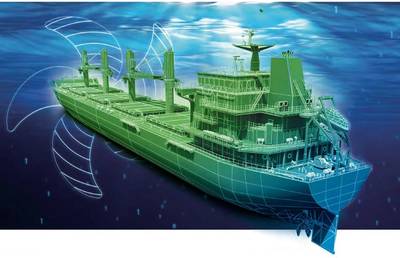 China Classification Society (CCS) has issued a first Approval in Principle (AiP) certificate for the marine liquid hydrogen fuel supply system developed by Weishi Energy Technology Hebei.
The system design includes a marine liquid hydrogen tank and cold box, supercooled hydrogen storage technology, heat exchange technology, regulated hydrogen supply technology and subcooled hydrogenation technology. Dual-boost functionality ensures rapid system startup, says CCS, and the system has been designed to be corrosion and salt-alkali resistant in high-humidity marine environments.
CCS and the manufacturer will also cooperate on the approval of hydrogen fuel cells, work together to provide product supply and technical support for the application of hydrogen energy ships and work towards the industrialization of liquid hydrogen technology in China.
CCS has assembled a hydrogen ship project team under the framework of its scientific research project "Research on the Guidelines for Survey of Hydrogen Powered Ships." In July 2022, the class society released its Guidelines for Ships Using Fuel Cell Power Plants. Guidelines on hydrogen cylinders followed.
In June 2020, CCS granted AiP for a 500kW fuel cell powered demonstration ship through the Green Pearl River project. In January 2021, CCS Wuhan Branch issued the first type approval certificate of marine fuel cell products to Wuhan Troowin Power System Technology. In 2022, CCS provided classification survey services for the first hydrogen fuel powered ship San Xia Qing Zhou 1.
In June 2022, CCS Zhejiang Branch issued a type approval certificate for the FCPS-S120 marine hydrogen cell power generation system developed by SPIC Hydrogen Energy Tech. The system is the first 100kW marine hydrogen cell power generation system in China.