COSCO Shipping Development Launches Electric Container Ship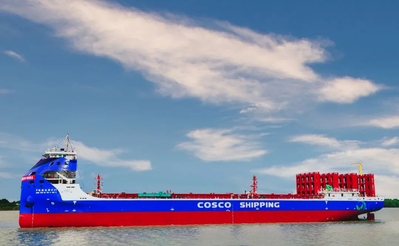 COSCO Shipping Development's 700 TEU electric container vessel (N997) has been launched at COSCO SHIPPING Heavy Industry (Yangzhou).
COSCO says the launch marks a significant advancement in the adoption of fully battery-powered vessels in inland waterways.
In May, COSCO Shipping Heavy Industry (Yangzhou) commenced work on a second 700 TEU electric container ship (N998). Powered by portable container-sized batteries, the ship is a 10,000dwt specific route river/coastal ship with an LOA of 119.8 meters, a molded beam of 23.6 meters, a designed draft of 5.5 meters, and two 900kW main propulsion motors. Compared with conventional fuel ships of the same size, it can reduce carbon emissions by about 32 tons per 24 hours.
Moving forward, COSCO says it remains committed to promoting and implementing electric vessels in domestic inland and coastal waters, contributing to the development of green, zero-carbon shipping solutions.