Costa Concordia Salvage: New Timeline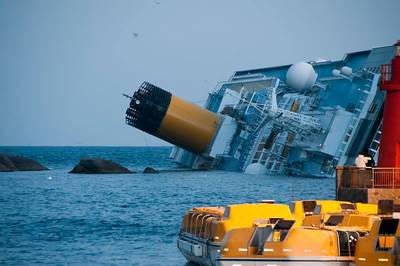 The stricken cruise ship will spend another winter partially submerged close off the coast of Giglio, Italy.

The consortium hired to re-float and remove the 114,500-ton ship presented this month a new timeline to the Osservatorio, the entity supervising the wreck salvage operations. Originally scheduled for completion by January 2013, the removal plan has been delayed until next spring.

The Italian-American Consortium, TITAN/Micoperi, presented the detailed engineering and design plan for the removal of the wreck Costa Concordia to representatives from Osservatorio recently, who issued the following statement:

The presentation confirmed the previously presented and shared phases of the plan. Activities in recent months have focused on the testing of the various technologies required to successfully execute the operation and the increasing need to prevent or contain any potential impacts to the surrounding environment. To date, all suppliers of the materials and work required have been secured.

The drilling techniques that will be used have been selected carefully and the seabed has been mapped, which will aid in minimizing the effects on the marine environment. The marine environment (turbidity, sediments distribution, current patterns, sea mammals, etc ...), as well as the land environment (air quality, noise, vibrations, etc …), have been evaluated.

Diligent monitoring of these environments will be in place once the drilling begins to minimize the impact. As the plan progresses, the various phases will be confirmed with the Osservatorio team and the technicians who operate on site to ensure feasibility and well-being of the ecosystem surrounding the wreck.

Orders were recently placed for all the supplies, components and materials necessary for operations. These purchases will have a positive impact on Italy's national industry and the local economy.

Finally, Osservatorio report that the wreck removal plan has a new predicted timeline that estimates the parbuckling and refloating to be complete by Spring of 2013. This time schedule is dependent in part upon subcontractor deliverables and schedules, and will preserve the upcoming summer season.