Cummins Unveils New Marine Generator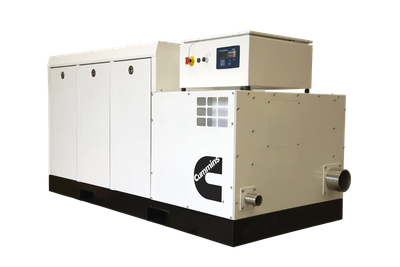 Cummins has unveiled its new Onan C-Power QSB7E generator for the recreational marine market, giving first kook to participants of the Genoa International Boat Show. The new product is available in both 50 and 60 Hz models, with output of up to 195 kWe.
"We understand that luxury yacht manufacturers face growing demands for comfort and peace of mind," said Michel Kozulic – Marine Business Development Manager at Cummins. "Cummins' QSB7E generator provides maximum reliability thanks to a commonality with its proven commercial marine generator portfolio. We know that peace of mind is the greatest customer benefit that we can pass along to our OEM partners when designing power solutions for this market."
According to the manufacturer, other benefits include an aluminum sound enclosure to the ease of maintenance with single-side service access. Boatbuilders will appreciate the engineering attention paid to help ease installation as well. The water-cooled exhaust boasts an impressive space savings of approximately 150 mm thanks to a unique rear-facing configuration. The generator base offers multiple outlets for fuel and battery cables.
While the enclosed QSB7E is a new offering for the recreational market, the non-enclosed QSB7 generators have been providing reliable prime and emergency power for hundreds of commercial marine vessels since 2012. The QSB7E for recreational applications offers identical power nodes as its commercial counterpart and shares the same engine, alternator options and controls.
Flexibility was also a key design consideration by Cummins' engineers, the company said. With a total of 12 QSB7E models to choose from, there is not only a range of outputs to select from but also unclassed, class-ready and full-class versions of the product. While the 2,300 mm by 11,000 mm dimensions and exclusive rear exhaust mean that the QSB7E doesn't take up any wasted space, the generous power output makes it suitable for even the largest of superyachts.
Cummins offers a complete range of marine generators, with Onan models from 4kW to 65kW and auxiliary power supply for superyachts and commercial vessels up to 3132kW.