Dry Air Critical to Engine Performance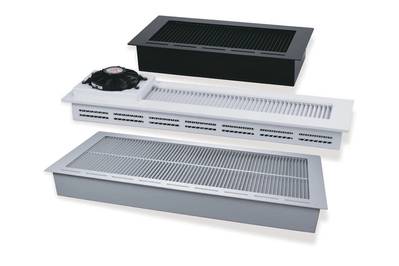 An abundant supply of fresh, dry air is critical to optimal engine performance. Delta "T" Systems offers a broad array of custom moisture eliminators that are highly effective at removing salt spray and water from intake air.

Moisture Eliminators are part of a complete engine room ventilation system. Incoming saturated air passes through a series of vanes specially designed by Delta "T" Systems, mounted vertically within a plenum box. They create particle separation to 10–20µ, and 1–10µ with multiple profiles. The resultant moisture collects, channels down through the housing into the plenum box and drains overboard. The units have a very low drag coefficient for maximum flow, without excessive pressure drop.

Profiles are available in a wide range of materials to fit any application and budget. They're offered in white or black, and are available in polypropylene, PVC and aluminum.

Delta "T" Systems engineers its Moisture Eliminators for maximum particle separation and minimum pressure drop. They're designed and manufactured for a specific application, and are 97% effective at removing moisture from engine room intake air.