Dynaligner Aims to Eliminate Shaft Misalignment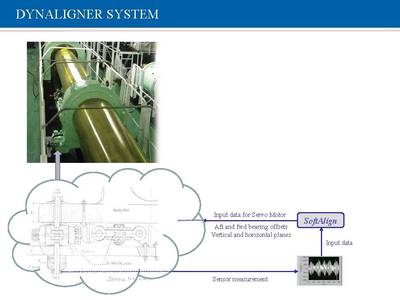 A Swedish and Dutch invention aims to eliminate misalignment, modernizing today's shaft alignment practice. The Dynaligner is said to offer trouble free operation of marine propulsion trains, irrespective of ship operation condition or hull deflections. Dynaligner 's developer said the propeller shafting is correctly aligned at all times during ship operation to avoid any mechanical behavior causing inappropriate bearing loads and wear/vibrations. The patented invention particularly focuses on, protecting the engine/gear, intermediate bearings and the stern tube bearings.
The Dynaligner solution aims to totally eliminate misalignment during ship operation. All problems related to misalignment will become history for the ship owning industry that until now has been helpless in the face of misalignment. For the shipowner, the most important economic advantage of using Dynaligners is saving all the costs brought about by misalignment, not least the class-required regular stops for tailshaft survey in dock. There are no delays during the new build phase due to shaft alignment procedure. The troublesome jack and sag & gap methods are not needed anymore. The propeller shafting can be installed before the superstructure is mounted on the hull, which will save a lot of time. It's a solution that makes sense: disengaging the propeller shaft bearings from the ship foundation and hull deflections. Dynaligner and the controlling software Softalign could well be the innovation that changes shipping.
(As published in the July 2014 edition of Maritime Reporter & Engineering News - http://magazines.marinelink.com/Magazines/MaritimeReporter)