Electric Voith Schneider Propeller Unveiled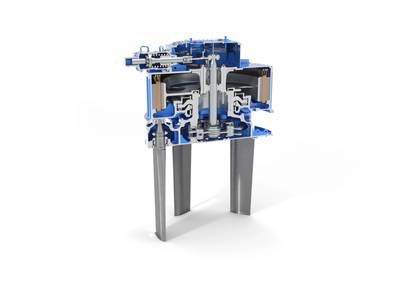 With the new electric Voith Schneider Propeller (eVSP), Voith is pushing ahead with the continuous electrification of its drive technologies. Among the advantages of the new eVSP are high efficiency and the reduction of complexity, since the permanent-magnet synchronous motor is already integrated in the propeller. The complete omission of gears reduces noise to a minimum and frees up critical space on the ship.
The drive system combines the technology of the VSP with over a decade of electrical know-how of the Voith Inline Thruster (VIT). "With the electric Voith Schneider Propeller, we are making an important contribution to the electrification of the driveline in marine applications and thus to even more resource-saving shipping," says Dr. Dirk Juergens, Vice President of Research & Development for Marine Applications at Voith. "The new eVSP was developed for this purpose for all applications involved in the mobility revolution, such as offshore supply vessels, tugs and ferries."
In addition, the eVSP offers ship operators future security through a high degree of flexibility in the choice of power generation (energy source) as well as low maintenance requirements thanks to its robust design. The follow-up costs in operation and maintenance are thus significantly reduced.
The new eVSP uses a permanent-magnet synchronous motor as its main drive, which is fully integrated into the VSP and significantly reduces the required oil volume. In addition, no gears or transmissions are required, enabling stepless operation and virtually loss-free conversion of the electrical drive power with dynamic response characteristics. Furthermore, the eVSP impresses with its low weight and can be mounted without any shaft train restrictions.
The eVSP offers the same advantages as a conventional Voith Schneider Propeller. The core principle of the VSP, the combination of drive and control in one unit, has been continuously developed and perfected over the last 90 years. Ships with VSP designed for offshore wind have been proven to precisely maintain the set position even at wave heights of up to 4.5 meters. The VSP is also the only propeller in the world that can significantly reduce the rolling motion of ships and thus significantly increase comfort and safety on board.