J-ENG Developing Ammonia-Fueled Engine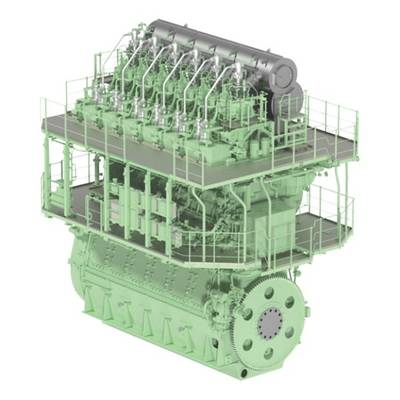 Japan Engine Corporation (J-ENG) has started development of its new UEC60LSH engine type, including an ammonia-fueled version.
The UEC60LSH supersedes J-ENG's UEC60LSE engine, and it is optimized for various vessel types, including very large gas carriers, Capesize bulk carriers, coal carriers and car carriers. The UEC60LSH series has the same ultra-low fuel consumption, compact dimensions and wide engine speed rating as the preceding UEC42LSH and UEC50LSH type engines, says J-ENG.
The company will simultaneously proceed with the development of the ammonia-fueled engine, UEC60LSJA type, based on the standard UEC60LSH fueled with heavy oil.
Advantages of ammonia include that it has an established supply chain for manufacturing and distribution as a raw material for fertilizers, and the demand for ammonia is expected to increase in the future to secure food supplies for the world's growing population. Furthermore, ammonia does not contain CO2 and is therefore expected to be used as a co-firing fuel for reducing GHG emissions at existing thermal power plants.
To meet the likely growth in demand, it is forecast that more ammonia carriers will enter the global fleet.
Currently J-ENG is developing a 50cm bore ammonia-fueled engine as part of a NEDO Green Innovation Fund project. This is expected to be completed in 2025. The company plans to launch a 60cm bore ammonia-fueled UEC60LSJA engine to market after 2026, for use as the main engine on large ammonia carriers.