First of 10 New Electric Ferries Delivered in Portugal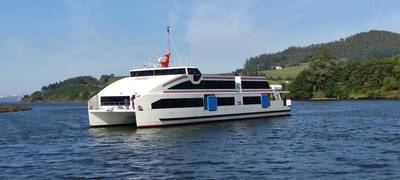 The first of 10 new, all-electric ferries has been delivered for emission-free commuter services along Lisbon's Tagus River.
Built by the Astilleros Gondán shipyard for operator Transtejo, the vessel features an integrated power, automation, energy storage and propulsion solution from ABB.
Replacing a fleet of older, fossil fuel-burning ferries, the 40-meter, 540-passenger vessels will also improve passenger comfort and reduce operational and maintenance costs.
With power distribution managed by ABB Onboard DC Grid ensuring that output of each ship's 1,860-kWh battery pack is safe, reliable and optimized, ABB estimates the new ferries will cut about 6,500 tons in CO2 emissions along the Tagus river every year.
ABB is also providing the control and rectifier systems for shore power as well as an advanced communications system which identifies the vessel arriving, its charging status and the power required, enabling the ferries to recharge within 5-10 minutes.