GE Gas Turbines to Power US Navy's New Destroyers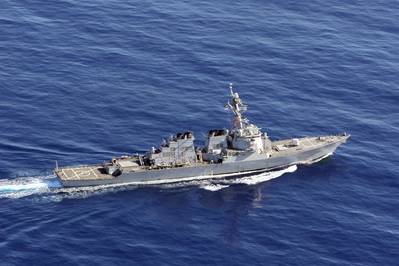 The U.S. Navy's new DDG 121 and DDG 122 Arleigh Burke-class destroyers will be powered by eight LM2500 marine gas turbines supplied by GE Marine, who also received a five-year extension on its requirements contract for the DDG 51 program.
"Once operational, these Arleigh Burke-class destroyers will be in service for some 30 years. GE Marine will be there alongside the U.S. Navy for the life of this program, providing support of the LM2500 gas turbines through continual infusion of advanced technologies," said Brien Bolsinger, Vice President, Marine Operations, GE Marine, Evendale, Ohio.
For instance, each LM2500 gas turbine for these new destroyers will feature common engine improvements including parts upgrade of the compressor rotor, the turbine mid-frame, the compressor rear frame and the power turbine, the manufacturer explained. Through the common engine program, the U.S. Navy can leverage the LM2500 industrial volume to control cost, and to improve manufacturing, durability and spare parts lead times.
Common engine changes are contained within the gas turbine, so as to not impact ship interfaces or on-ship maintenance activities; this configuration has been recertified to U.S. Navy Mil 901D shock. GE's common engine program is also available to international naval customers.
The eight LM2500 gas turbines – four per ship – will be manufactured at GE's Evendale, Ohio, facility, before delivery to shipyards General Dynamics/Bath Iron Works, Bath, Maine, and Huntington Ingalls Industries, Pascagoula, Miss.
To date, the U.S. Navy has taken delivery of more than 700 LM2500 gas turbines operating aboard surface combatants such as frigates and destroyers.