German Yard FSG Launches its Longest RoRo Ferry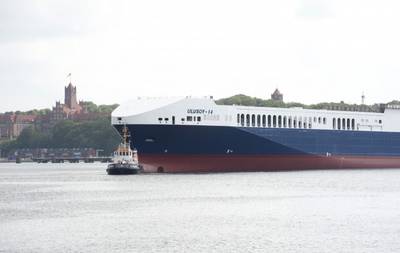 Flensburger Schiffbau-Gesellschaft launches first of two RoRo freight ferries for the Turkish shipping company Ulusoy Sealines.
"At 208 metres, this is the longest and biggest freight ferry ever built at FSG", declared shipyard Managing Director Peter Sierk. He added that it was a very significant moment for him and the entire shipbuilding team at FSG to see the "Ulusoy 14" slide into the Flensburg Fiord without a problem.
Ulusoy Sealines has ordered two of the modern freight ferries from FSG for service on the route between Cesme and Trieste where the Flensburg new buildings will replace not just two but four older ferries. They have almost the same freight capacity as the old units, but will consume significantly less fuel and will have considerably less waste gas emissions.
While the hand-over of "Ulusoy 14" is not scheduled to take place until October this year, the keel of the second new-building for Ulusoy Sealines is being laid. Her launch is planned for November 2nd 2012 and her delivery for January 2013. Each of the ships has space for 283 trailers and a loading capacity of 4,094 lane metres.