Grimaldi Orders More Ammonia Ready Car Carriers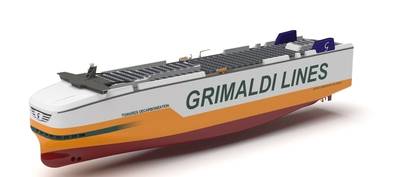 The Grimaldi Group announced it has exercised its option for the construction of five additional ammonia-ready 9,000 CEU car carriers from China Merchants Heavy Industries Jiangsu, part of China Merchant Industry Holdings (CMI).
Grimaldi announced its initial order for five new pure car and truck carrier (PCTC) vessels from CMI in October. The 10 vessels are scheduled to be delivered between 2025 and 2027 and will be deployed on voyages between Europe, North Africa, and the Near and Far East.
Grimaldi said it developed the vessel concept in collaboration with naval architecture firm Knud E. Hansen. With loading capacity of over 9,000 CEU (Car Equivalent Units), they are designed to transport electric vehicles as well as fossil fuel vehicles. They received the Ammonia Ready class notation from RINA (Italian Shipping Register), which certifies that the ships are designed for eventual conversion for the use of ammonia as marine fuel.
The vessels will be equipped with lithium batteries, solar panels and shore connection capability, as well as air lubrication system, innovative propulsion and optimized hull design. Overall, the new ships will be able to cut fuel consumption by 50% compared to the previous generation of car carrier vessels, Grimaldi said.
The Neapolitan company is in the midst of upgrading and renewing its fleet, which currently counts 130 ships deployed worldwide.
In January, in placed orders with Shanghai Waigaoqiao Shipbuilding Company Limited (SWS) and China Shipbuilding Trading Company Limited (CSTC), two subsidiaries of China State Shipbuilding Corporation Limited (CSSC), to build five new 9,000 CEU PCTC vessels, with the option for another two units.
Overall, thanks to its recent investments totaling about $2.5 billion, the group will take delivery of 25 new ultra-modern vessels over the next five years, including 15 ammonia-ready PCTCs (with option for another two units), six G5-class ro-ro multipurpose vessels, two GG5G-class hybrid ro-ro ships and two Superstar-class ro-pax units (for its subsidiary Finnlines).