VT Halter Wins Historic $746m CG Contract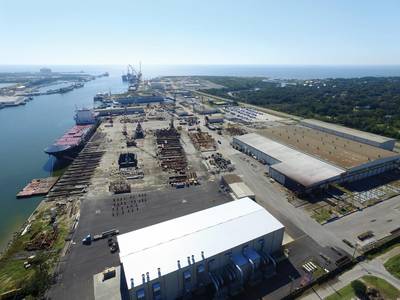 VT Halter Marine of Pascagoula, MS has emerged the victor in one of the most prized and coveted shipbuilding contracts in recent memory, a $746m deal to build the Coast Guard's lead Polar Security Cutter. If two additional ship options are exercised, the total deal could approach $2B.
The U.S. Coast Guard and U.S. Navy, through an Integrated Program Office (IPO), awarded VT Halter Marine Inc., of Pascagoula, Mississippi, a fixed price incentive (firm) contract for the Detail Design and Construction (DD&C) of the Coast Guard's lead Polar Security Cutter (PSC).
The initial award is valued at $745.9 million and supports non-recurring engineering and detail design of the PSC class as well as procurement of long lead-time materials and construction of the first ship. The contract also includes options for the construction of two additional PSCs. If all options are exercised, the total contract value is $1.9 billion.
When interviewed by Maritime Reporter & Engineering News in the autumn of 2018, newly minted USCG Commandant Admiral Karl Schultz emphasized the importance of this shipbuilding program. "My philosophy – my strategy – is talk about a 6/3/1. We need a minimum of six icebreakers – that's consistent with my predecessors – that's based on the high latitude study. Within that 6/3/1, a minimum of three heavy, or Polar Security Cutters, and then the one is we need one now. If we don't start awarding a contract soon, I'm not so sure we can bridge the life span of the Polar Star much beyond a handful of years. The nation really needs to pay attention up there, and the Coast Guard's the right agency on that."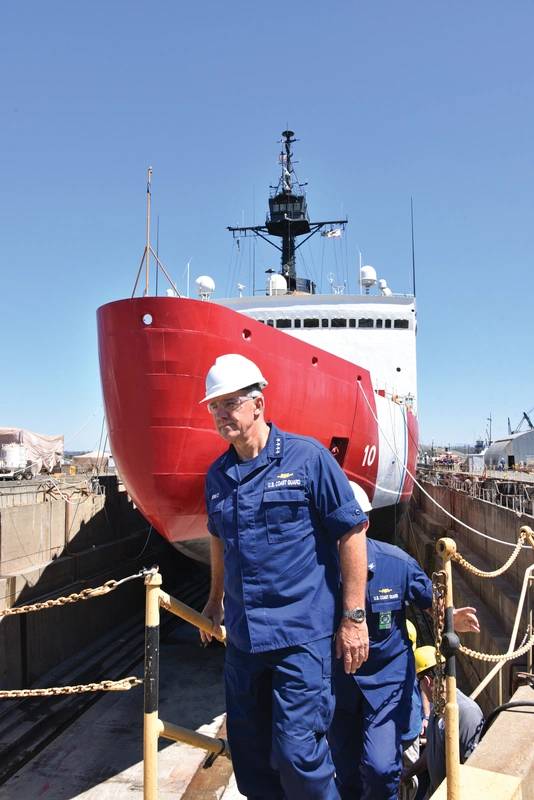 Coast Guard Commandant Karl Schultz tours the Coast Guard Cutter Polar Star while in maintenance and repair at a dry dock facility in Vallejo, Calif., Aug. 2, 2018. The Seattle-based Polar Star is the Coast Guard's only remaining operational heavy icebreaker. Coast Guard photo by Petty Officer 1st Class Jetta Disco.


"Against the backdrop of great power competition, the Polar Security Cutter is key to our nation's presence in the polar regions," said Admiral Karl L. Schultz, Commandant of the Coast Guard. "With the strong support of both the Trump Administration and the United States Congress, this contract award marks an important step towards building the nation's full complement of six polar icebreakers to meet the unique mission demands that have emerged from increased commerce, tourism, research, and international activities in the Arctic and Antarctic."

The acquisition of Polar Security Cutters is being jointly managed across the U.S. Navy and U.S. Coast Guard through an IPO that leverages the expertise and utilizes best practices across each enterprise to deliver a fleet of highly capable, multi-mission ships in the most cost-efficient and timely manner possible. NAVSEA is the lead contracting authority.

"This contract award reflects the great benefit achieved by integrating the incredible talents of U.S. Coast Guard and Navy acquisition and shipbuilding professionals to deliver best value at speed," said James Geurts, Assistant Secretary of the Navy for Research, Development and Acquisition. "Working with our industry partners, the team identified approximately $300 million in cost avoidances and accelerated the schedule for delivery of this capability to the nation by almost three years. This reflects the urgency in which we are operating to ensure we deliver capabilities necessary to support the U.S. Coast Guard and the nation's missions in the polar regions."

Construction on the first PSC is planned to begin in 2021 with delivery planned for 2024; however, the contract includes financial incentives for earlier delivery.



• Antarctic • California • Karl Schultz