Honda Marine Announces iST Outboard Sale Date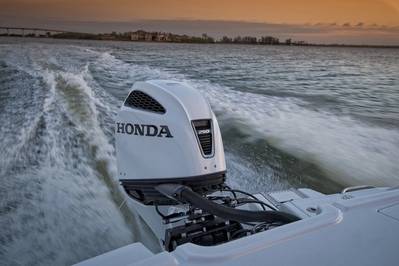 Honda Marine has announced that the refreshed Honda Marine BF200, BF225, BF250 Intelligent Shift and Throttle (iST) electronically controlled outboard motors now are on sale at Honda Marine dealers nationwide.
The mechanically controlled versions of these models have been available since early 2019.
Targeting the heart of the boating market, the refreshed Honda BF200, BF225 and BF250 models mark the newest evolution in the company's product line, integrating innovative design, a sleek new Progressive V Form style, improved corrosion resistance, streamlined maintenance and an expanded number of rigging options for ease of use. The new motors are engineered to meet the requirements and needs of a broad number of boat types including pontoon, aluminum, fiberglass and bass boats. Whether boaters are weekend cruisers or commercial (including government and law enforcement) users, these enhanced V6 motors deliver what every marine enthusiast wants—maximum time on the water.
The Honda BF200, BF225 and BF250 outboard motors, available in either Aquamarine Silver or Grand Prix White, feature a long (20-inch), extra-long (25-inch, Std/Ctr) or ultra-long (30-inch, Std/Ctr, BF225, BF250) shaft. All three revamped outboards offer an industry-best True 5-year, non-declining factory warranty that is the same on the last day as it is on the first.
"The 200hp-250hp range, representing the heart of the boating market, accounts for approximately 90 percent of all outboard motor purchases," said Michael Rickey, Senior Manager, Honda Marine. "The redesigned Honda V6 outboards underscores our company's commitment in serving these segments, growing the industry, and spreading the joy of boating to new boaters."