IMO2020: The Rise of Bulk Liquid Hydrogen in Norway
Imagine a power distribution network where excess renewable energy from hydropower, wind, solar, and nuclear energy is converted to hydrogen and used as transportation fuel in the maritime industry. With the allure of a zero emissions fuel, a number of ship owners are starting to seriously consider hydrogen for newly built vessels. As a bold first step, the country of Norway has provided a number of grants to leading maritime companies to conduct feasibility studies into various aspects of this emerging technology sector. Central to this discussion is "how" hydrogen will be transported from its source to end-users.
Norwegian based companies, Moss Maritime and Wilhelmsen Ship Management, together with Norwegian energy giant Equinor and class society DNV-GL recently conducted a feasibility study to analyze the technical and economic aspects of such an undertaking. Tor Skogan, Vice President of Liquefied Natural Gas (LNG) at Moss Maritime, and Per Brinchmann, Vice President of Special Projects at Wilhelmsen, provided insight into the emerging market for bulk liquid hydrogen in Norway. With a grant from Innovation Norway, a state-sponsored research organization, these companies embarked on a technical study to design a carrier for transportation of liquefied hydrogen in bulk with a 9,000 cubic meters capacity which would serve an integral role in an emerging hydrogen economy.

A Growing Market for Bulk Liquid Hydrogen
Based on discussions with experts in the maritime hydrogen field, ferries and cruise ships are likely to be the first types of vessels to adopt this technology."It starts with short sea and small operations [such as fast ferries]…There will be a market for liquefied hydrogen coming up in Norway" explained Mr. Brinchmann pointing to FLAGSHIPS, a grant from the EU's Research and Innovation program Horizon 2020, to build and utilize hydrogen ferries. A press release from Horizon 2020 indicated that one of the first liquefied hydrogen ferries in the world will be operated by Norled, a local transportation provider in Norway, to be used on the Finnøy route north east Stavanger by 2021.
To further develop the hydrogen value chain, Moss, Wilhelmsen, Equinor and DNV-GL set out to design a bulk carrier to supply liquid hydrogen to proposed ferries and cruise ships operating in the Norwegian fjords. When mapping the different methods and production sites for liquefied hydrogen, the group considered both "green hydrogen" generated via electroloysis from renewable energy sources and "blue hydrogen" from steam-methane reformation combined with carbon capture. In the electrolysis process, water is split into hydrogen and oxygen through a process which utilizes electrical current and specialized membranes. Steam-methane reforming combined with carbon capture, on the other hand, involves the combustion of petroleum products, generally natural gas, and the capture and storage of the carbon emissions after combustion.
"Liquefaction plants are expensive", stated Mr. Brinchmann. "This is a volume game... How do we create the volumes needed to justify the high investment costs?"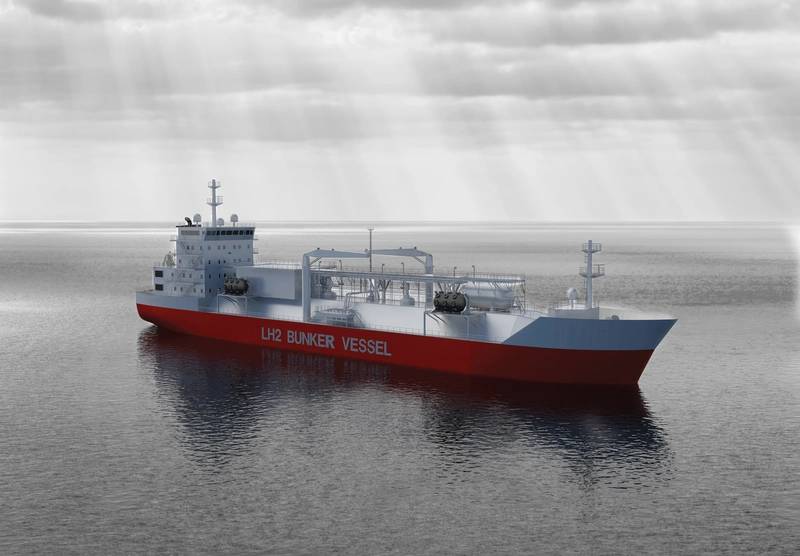 Renderings of a bulk carrier for the transportation of liquefied hydrogen by Moss Maritime, Wilhelmsen Ship Management, Equinor, and DNV-GL. Photo credit: Moss Maritime.
Besides the good-will created from deploying vessels which do not produce emissions during operations, the Norwegian government is planning on issuing regulations which would encourage ship owners to adopt zero-emission vessels in certain operating areas.
Mr. Brinchmann explained, "The Norwegian government announced that after 2026 to be allowed to go into our heritage fjords in Norway, you must be emissions free. Cruise vessels coming to Norway after 2026 will not be allowed to go into specific fjords because of emissions unless they shift other types of fuel. This is a strong signal to the industry that you need to change. Over time that will force some of the operators who want to go into the fjords…to change to hydrogen".
In addition to specific Norwegian fjords, Svalbard, the austere arctic island located north of the Norwegian mainland, may also be an emerging market for liquefied hydrogen. In a push by the Norwegian government to transition from coal, authorities are considering hydrogen and fuel cells to power the island. Mr. Brinchmann stated, "One option is to ship hydrogen from Tjeldbergodden, [a site near Trondheim where Equinor has a methanol plant and gas receiving terminal], to Svalbard. This vessel was designed to handle the transport of hydrogen to supply Svalbard. [Our] grant from Innovation Norway was mainly based on the Svalbard case".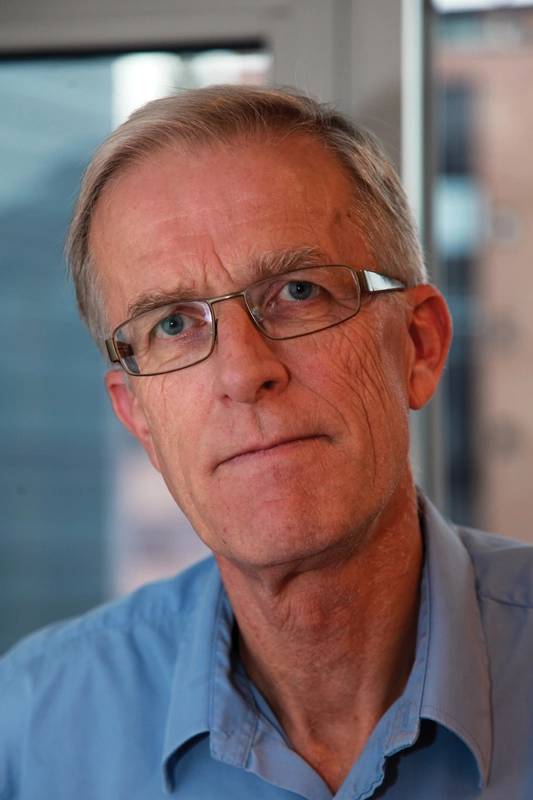 Per A. Brinchmann, VP Special Projects at Wilh. Wilhelmsen Holding ASA. Photo credit: Wilhelmsen.
Engineering Innovation and Challenges
Moss Maritime, the original designers of the prolific Moss Liquefied Natural Gas (LNG) carriers, served as the technical lead for the bulk liquefied hydrogen carrier feasibility study. Leveraging over 50 years of designing cryogenic systems for LNG carriers and floating LNG terminals, the company set about developing a design for a 9,000 cubic meter bulk liquefied hydrogen carrier with bunkering capability.

"There are many similarities between liquefied natural gas and liquefied hydrogen" explained Mr. Skogan. "One of the important points [during the feasibility study] was to define the various operation modes of the vessel and thereby specifying the equipment that is needed for the vessel".
"When approaching relevant vendors in the market we concluded that most, if not all equipment, which is needed on such a vessel is more or less ready to be proposed by the supplier. We saw some small gaps where some of the suppliers will continue to work to get their products to be ready to be offered. I would say it is quite close". Mr. Skogan went on to indicate that the study revealed no "showstoppers".

The feasibility study also covered considerations for handling boil off gas (BOG), which occurs naturally from the heat ingress from outside of the storage tanks. "We concluded that by using vacuum insulation we end up with a BOG rate which is so low that we can manage [the BOG] without a reliquefaction plant on the vessel, which is advantageous for CAPEX and OPEX" said Mr. Skogan. A reliquefaction plant, found on most LPG carriers and some LNG carriers, cools BOG and converts it back into a liquid. "This means that after the loading operation at the terminal the vessel can sail to multiple destinations with the tanks closed. The tank pressure will increase as a result of the natural heat ingress and the offloading operations but will be within reasonable design pressure of the tanks". Mr. Skogan clarified that this design was selected to reduce the cost and complexity of the design. Without delving into proprietary information regarding tank construction, Mr. Skogan explained that vacuum space and special insulation materials are required to achieve the low BOG rates for the two 4500 cubic meter tanks proposed for the vessel.

Next Steps
With a number of liquefied hydrogen projects throughout the world at different stages of execution, Mr. Skogan and Mr. Brinchmann proffered that they are ready for the next step. "At such a feasibility level, we are not far away from producing documentation which could be [the] basis for an Approval In Principle which is a first technology step which is often being used to demonstrate that the technology could be introduced to the market", stated Mr. Skogan.

As an immediate next step, Mr. Skogan indicated the team would "Work more in detail [with] the various ship operations including those related to commissioning and de-commissioning of the storage tank system, and also focus more on the specifications of relevant equipment and materials".

To flesh out this level of detail, Mr. Skogan called for a "specific project where we could tailor the design in order to meet the certain project requirements" based on a specific customer's needs.

It was clear from the discussion with Mr. Skogan and Mr. Brinchmann that interest in maritime bulk hydrogen will continue to grow as regulatory bodies throughout the world call for stricter emissions across all transportation sectors. Moreover, it is clear that Norway will continue to be one of the global epic-centers for research in maritime hydrogen.

• bulk carrier • energy • Equinor