Kongsberg, ABB Partner on Engine Performance Analysis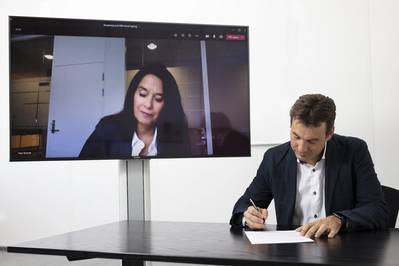 A cooperation agreement between Kongsberg Digital and ABB Turbocharging on edge data collection and ship engine performance analysis will see the two companies work toward a common data infrastructure and accelerate the development of digital applications and services.
The pact will enable ABB Turbocharging to use Kongsberg Digital's data infrastructure solution for vessels, Vessel Insight – which runs on Kongsberg Digital's Kognifai ecosystem – as an additional data infrastructure service for ABB Turbocharging's digital solutions. Such exchange of data between cloud platforms is fundamental to enabling remote diagnostics on vessel engines, the firms say. The recent introduction of continuous performance evaluation functionality in ABB's advisory software for engines, ABB Ability Tekomar XPERT, allows time-series engine data to be transferred between platforms.
"Partnerships between major players are key in bringing about high value digital solutions to the maritime sector at a lower cost and faster pace. With Kongsberg Digital and ABB working together to increase the value offering to customers, we can deliver an even more attractive return on investment to vessel owners and operators," says Hege Skryseth, President of Kongsberg Digital.
While the partnership aims to bring solutions for a safer, smarter and greener maritime industry, it will also enable fully automated solutions where all sensors are installed, giving data transparency that can be shared with other parties and OEMs for value generating purposes. This translates into less workload for the crew.
"This collaboration between two players driving maritime digitalization will take our customers further, faster. Our goal is to empower ship owners and operators to extract the maximum value from their engine data. This cooperation will help to deliver the tools and insights needed to make their vessel operations better, their fleet management more efficient and their businesses more profitable and sustainable," says Cristian Corotto, Vice President Digital Customer Solutions, ABB Turbocharging.
Vessel Insight is an out of the box solution to solve ship-to-cloud data transmission, and combined with Tekomar XPERT offers a fully automated engine performance diagnostics system.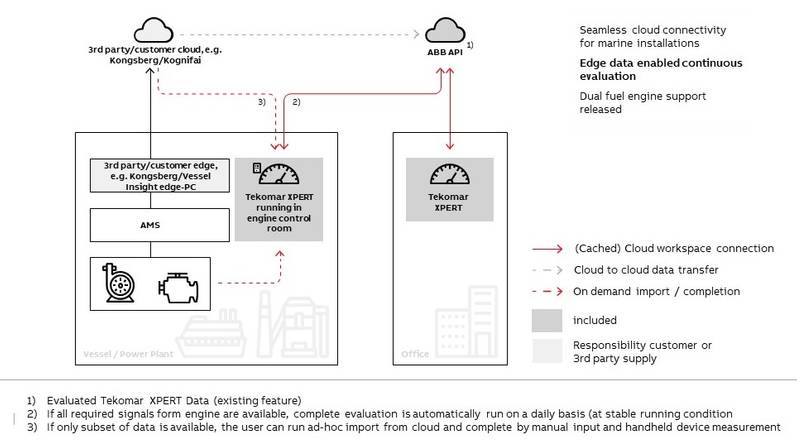 (Image: ABB)