Kongsberg Digital to Supply Methanol Dual-Fuel Engine Room Simulator to AAMS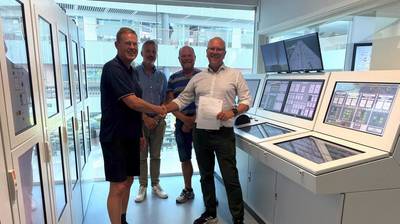 Kongsberg Digital is providing a second Full Mission K-Sim Engine simulator package to the Danish training institute Aarhus Maskinmesterskole (AAMS).
The delivery, scheduled for February 2024, also includes three engine models to achieve specific training objectives for a range of modern propulsion and engine types. Notably, the package features a cruise ferry model tailored to facilitate mandatory IGF Code training for personnel serving on LNG-fuelled vessels.
Kongsberg Digital is also set to develop an entirely new engine model that harnesses the machinery configuration of an advanced hybrid coastal passenger vessel. This diesel/methanol electric hybrid model boasts four dual-fuel (MDO and methanol) generators and a 7500-kWh battery pack, channeling power to a high voltage switchboard.
In alignment with evolving safety and environmental standards in the maritime industry, the new engine room simulator model will equip students with proficiency in managing hybrid power systems, methanol bunkering, and methanol-powered engines. A paramount focus of the training will be on the safe handling of low flash point fuels.