Kongsberg Waterjets Chosen for New Incat Fast Ferry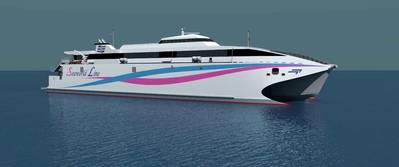 Kongsberg Maritime (KM) said it will make its first delivery of large-size waterjets to Incat, Tasmania-based designers and builders of high-speed catamaran ferries.
The scope of supply for the Incat newbuild currently designated 'Hull 097' includes four Kongsberg Kamewa S90-4 waterjets as well as a touch screen remote control system incorporating a CanMan Touch joystick, enabling the ship to be maneuvered remotely from the bridge. KM's standard two-tiller configuration for both the center helm seat and navigator's seat will be adapted in this instance to a single center helm tiller.
KM will also provide a separate aft-facing console comprising two touch screens, one Polar joystick with heading knob, two backup panels incorporating clutch in/clutch out buttons and one analogue steering and bucket position gauge per jet.
The Kongsberg Generation 4 waterjets feature a new light weight reversing bucket that reduces installed weight by around 2,000 kg.