KPI Bridge Oil celebrates 40th Anniversary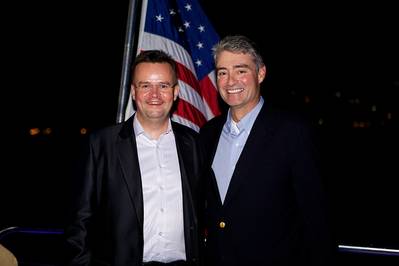 KPI Bridge Oil is celebrating its 40th anniversary in September 2011. KPI Bridge Oil, Inc. was established in 1971 in New York as KPI Oil Associates, Inc. The company was one of the first true marine fuel broking houses in the U.S. and is today one of the largest bunker broking and trading houses in the Americas with offices in New York, Miami, Seattle and Valparaiso, Chile. The solid foundation and successful global operations have in the past 40 years been cultivated in an environment steeped in maritime heritage. Most of the 25 bunker professionals in the KPI Bridge Oil Americas teams are ex seafaring or have a strong maritime commercial background.
"We have steadily expanded our company over the years through a strong internal growth and have recently moved into new offices in the New York Metropolitan area that will accommodate our growing team and our future expansion plans," said Rob Atkinson, Managing Director KPI Bridge Oil Americas. "Most importantly our company would not be what it is today without the solid long term support we've received from our customers and suppliers. We would like to take the opportunity at this special occasion to thank all our business partners for the excellent collaboration we've experienced from the launch of the company and over the past 40 years".
Jan Obel, CEO KPI Bridge Oil Group said "The KPI Bridge Oil group originated from a simple business alliance between KPI Oil Associates in New York and Bridge Oil in Europe/Asia, born from the vision and foresight of Mr. Rob Atkinson. This venture quickly proved to be so successful that the two companies were merged to officially form KPI Bridge Oil and from there on it has grown to become one of the leaders in the international bunker industry and the global group we know today. The Americas has always played a crucial part in KPI Bridge Oil's success as it enables us to operate on a truly global scale and to service our customers across all time zones from our strategically placed offices with our dedicated and professional teams worldwide".
Jan Obel also commented: "The successful development of the KPI BO Americas operation in the last 40 years and especially in the recent decade could not have happened without the strong dedication and professional attitude of the Americas Team and I would like to personally thank every member of the KPI Bridge Oil Americas team for their hard work and desire to deliver an outstanding service and support to our customers and suppliers day in and day out. We'll continue our ambitious and exciting development strategy for the Americas teams and operations and expect to expand significantly in the Americas over the next 2-3 years."

• KPI Bridge Oil Inc. • Americas • KPI Oil Associates Inc.