Livorsi Introduces QR Series DTS Controls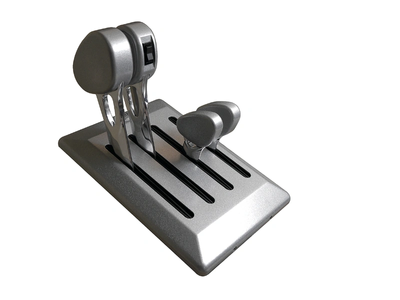 Livorsi Marine has rolled out its new QR Series Throttles (Quick Response) designed specifically for Mercury Marine's DTS compatible engines. The shorter levers make this control great for tight dash spaces and allows for quicker response time.
These ergonomic ally designed knobs are very comfortable on the palm of your hand. With up to three trim switches integrated into the knob, your hand never has to leave the control. Electronic shifting and throttle make it easier to maneuver in tight docking spaces. Create your own color combination to make this control look and feel like a custom built control.

Features:
Knobs available with 1, 2 or 3 switches for trimming tabs, drives, jackplates or a function of your choice
Controls come standard with a chrome finish (11 brilliant colors available on the knobs and base plate) : Livorsi's unique chrome process provides added layers of protection that make this billet QR Series control impervious to salt water corrosion.
Trim switch wires are integrated into the handle ( No exposed tube).
Base plate has no screw holes exposed for a clean hitech look.
Available in single, twin and Shadow Mode configurations: Shadow Mode allows a 4 handle control (2 shift levers 2 throttle levers) to run up to 4 engines with an optional Mercury dash pad.
DTS Controls work on Mercury and Cummins DTS ready engines.
Easy adjustments for friction and detent. No need to remove the control to adjust.
• Cummins • Mercury Marine