LNG Dual-fuel Chemical Tanker Launched for Fairfield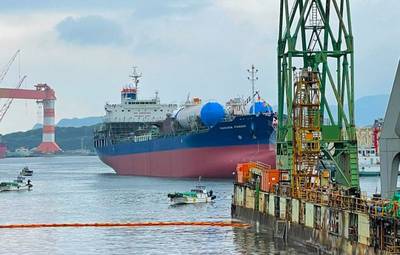 Japan's Fukuoka Shipbuilding has launched a new chemical tanker for U.S. based shipping company Fairfield Chemical Carriers (FCC).
The newly built Fairchem Pioneer is FCC's first liquefied natural gas (LNG) dual-fuel stainless steel chemical tanker. According to FCC, the vessel's LNG propulsion technology reduces carbon dioxide emissions by up to 25% compared to traditional marine fuels.
The ship is the first of two 26,300-dwt chemical tankers FCC ordered from Fukuoka Shipbuilding, with options for four additional vessels.