Maersk Takes Delivery of World's First Methanol-fueled Container Feeder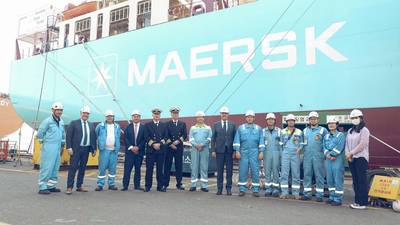 Maersk has taken delivery of the world's first container feeder to be fueled by methanol.
The 2,100 TEU vessel was built at Hyundai Mipo Dockyard and Hyundai Heavy Industries and features dual fuel main and auxiliary engines from MAN Energy Solutions that are able to operate on cleaner-burning methanol.
The ABS-classed vessel, HMD Hull #4168, is embarking on its maiden voyage from Ulsan to Copenhagen for a naming ceremony in September, when the ships is expected to take the name Laura Maersk. The Danish shipping giant has signed a deal with Dutch producer OCI Global on the delivery of green bio-methanol for the 21,500-kilometer journey.
"The green methanol market is still in its infancy and frankly we had not expected to be able to secure a maiden voyage on green methanol for this vessel. So, we are very proud to have achieved this significant milestone. We expect a diverse green fuel mix for the future, with green bio-methanol from biomass waste being available now," said Morten Bo Christiansen, Head of Energy Transition, A.P. Moller – Maersk.
Maersk said the introduction of its newest container vessel is a significant step toward realizing its commitment to becoming carbon neutral.
The dual-fuel vessel will pause in Copenhagen right outside the Maersk headquarters on its way to the Baltic Sea, where it will be operating going forward. The feeder vessel will bring real experience for Maersk seafarers in operating the new type of fuel as the company prepares to receive a fleet of new, large oceangoing dual-fuel engine powered ships from 2024.
Maersk is leading the charge alongside several other major container liner companies that have ordered dual-fuel vessels capable of running on methanol—one of a handful of alternative fuels being explored to help the global shipping industry reduce its emissions.
Maersk currently has on order 24 additional green methanol-powered ships, including a dozen 16,000 TEU and six 17,000 TEU ships at South Korea's Hyundai Heavy Industries, plus six 9,000 TEU ships ordered from Yangzijiang Shipbuilding in China. The company is also planning to retrofit existing vessels with dual-fuel engines capable of running on methanol.
A.P. Moller – Maersk aims to achieve net zero greenhouse gas emissions in 2040 across the entire business. To get there in time, the company aims to transport a minimum 25% of Ocean cargo using green fuels by 2030 compared to a 2020 baseline. Receiving the landmark dual-fuel engine feeder vessel is a major step toward the long-term objective of gradually renewing the entire A.P. Moller – Maersk fleet to operate solely on green fuels and making a tangible impact in the industry's efforts to reduce greenhouse gas emissions, the company said.