Maritime 2050: Facing the Decarbonization Challenge
The International Maritime Organization (IMO) greenhouse gas (GHG) strategy signals a true game changing moment for the shipping industry. External pressure was building, but the IMO strategy sets a time line and goals for shipping to tackle one of the great challenges of our time. The GHG strategy gives our latest Maritime Forecast to 2050 its focus, and with this publication we attempt to set out the different strategies and pathways the industry can take to reach these goals.
The first conclusion from the report is a sobering one. Although awareness of the issue is growing and the pace of alternative fuel adoption is increasing, without changes in the policy background – we will not meet the goals of the IMO strategy. In the deep-sea segment, which accounts for 80% of the global CO2 emissions from shipping, the majority of new vessels are still planned and built to use traditional fuels. These are decisions being made with long-term implications, as shipping moves to a less carbon intense future.
Taking the long view in shipping is important, vessels are long term assets and a ship ordered today will compete with vessels coming onto the market 10 to 15 years from now. This means that today's plans must include not only today's fuels and standards, but tomorrow's. To fail to do so, risks stranding a major asset, especially when we are talking about the deep-sea segment.
To see how the industry might change under different scenarios, we have looked at three different transition pathways:
• A business as usual scenario, where no further decarbonization policies are put in place
• A gradual tightening of operational requirements
• A slower transition with strict requirements for newbuildings introduced abruptly towards the end of the 2050 deadline
Under all of these scenarios, improving vessel efficiency is essential. Today, we already have technologies commercially available that can reduce per ship emissions by 20-30 %, depending on the ship type, (e.g. hull-line optimization, trim optimization, route planning, waste heat recovery, hybridization, machinery improvements, etc.). This does not include vessel speed reduction. There are also solutions, that have not yet reached full maturity, broad adoption, or cost effectiveness that promise further efficiency gains, (e.g. wind assistance, air cavity lubrication, etc.).
Alongside technologies which can improve vessel efficiency, operational changes can have a large impact on shipping's GHG emissions, for example by reducing vessel speed. We have already seen significant speed reductions, but further reductions will be necessary. A moderate to extensive speed reduction (20-50% reduction), is technically feasible today, but would require some changes to current logistic models as well as acceptance in the market.
Digitalization can reduce the cost of shipping while contributing to improved safety and energy efficiency. Operators will generate cost savings through advanced data analytics, process digitalization, robotic process automation, and connecting and sensing technology.
Digitalization will boost shipping efficiency and improve utilization of the current fleet by improving logistics and planning, port operations, and enhance voyage performance through optimizing operations, including speed optimization, better weather routing and autopilot use.
It is in the uptake and development of alternative fuels that policy will have the greatest impact, and this is reflected in our projections under the three different scenarios. Under the "business as usual" pathway, we see limited transition to other fuels, the energy mix in 2050 being 93% based on fossil fuels, specifically 50% liquefied natural gas (LNG) and 43% liquid fuels. Under a gradual tightening path, LNG dominating the fuel mix, with liquid biogas or electrofuels becoming more popular from 2040 onwards – and would be one way of meeting the 2050 deadline. A later introduction of strict requirements, our third path, sees the potential for the rapid introduction of other fuel options with ammonia emerging as a potential carbon neutral option. And for these different pathways, we must consider the implications for the maritime ecosystem and the consequences for ship design, fuel supply and bunkering infrastructure, and research and development.
In all three pathways, liquefied methane is a dominant 40%–80% of the fuel mix in 2050. The primary energy source of the methane varies between fossil, biomass and other renewables. Under any scenario, carbon-neutral fuels having to supply 30%–40% of the total energy for international shipping in mid-century if IMO GHG ambitions are to be achieved. For all pathways, shore-based electricity provides about 5%–7% of total energy for shipping in 2050 through batteries and shore-to-ship power. The service and passenger segments have the highest share, almost 18% of their energy being provided by grid electricity.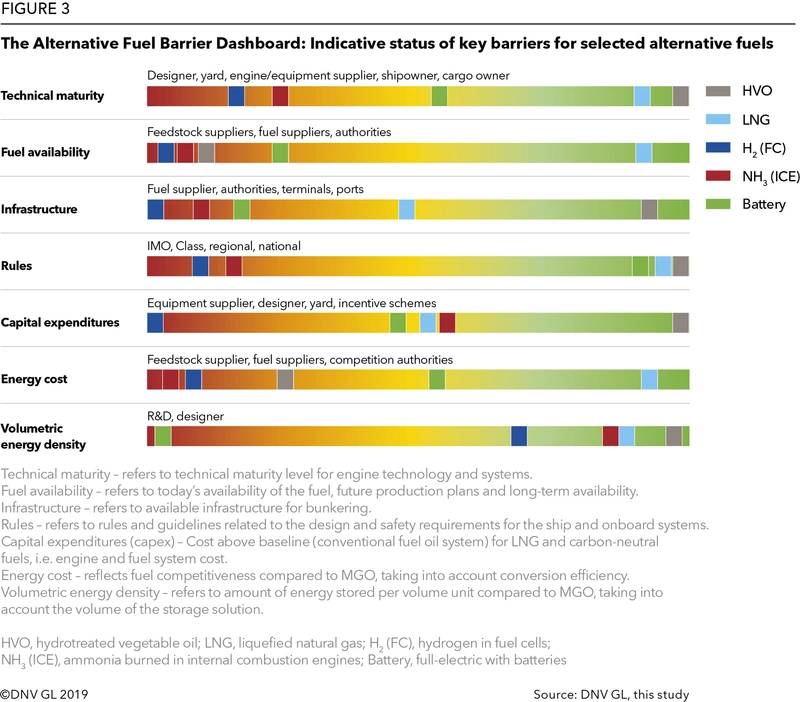 Source: DNV GL

We have lower and potentially carbon neutral options in use today, with LNG, electric, biofuels, and biofuels for example. But in the context of ship fuel, what does it mean to be carbon neutral? This is an important concept for the industry to meet the 2050 goal

The term carbon-neutral refers to a variety of energy sources or energy systems that have no net GHG emissions, or carbon footprint. Either a fuel can be 'naturally' carbon free. This is the case for electricity, hydrogen and ammonia, if produced from renewable energy or fossil energy with carbon capture, for example. Or, the fuel can contain some carbon, but the carbon is sustainably sourced and part of the natural carbon cycle. This category includes sustainably produced biodiesel and liquid biogas and carbon based electrofuels. Electrofuels is the term for synthetic fuels like diesel, methane and methanol, when they are produced from hydrogen and CO2 (carbon based) or from hydrogen and nitrogen (nitrogen-based fuels such as ammonia), using renewable electricity to power the production.

Making this transition presents many challenges, especially in the deep-sea segment, where a decision to back a new fuel requires a massive investment. For example, without any infrastructure and distribution, it is difficult for shipowners to commit to a new fuel. But suppliers will not develop the infrastructure before they are certain of demand. Being forced to pick a winner among many options, is a risk that can be a barrier to adoption. Here, short sea shipping can be an important test ground for new fuels and a valuable stepping stone for getting both technology and infrastructure ready for bigger deep-sea vessels.

Because, without the required infrastructure and distribution, it is difficult for shipowners to commit to a new fuel. Suppliers will not develop the infrastructure before they are certain of demand. However, big liner companies have the potential to shape the fuel mix. They trade large volumes on fixed routes – offering suppliers reliable fuel demand. But most operators will have to be more flexible in their fuel choice.
In the transition phase, investing in fuel flexibility and bridging technologies is a good way to prepare for a low carbon future. In deep sea segments, dual-fuel combustion engines and alternative fuel ready solutions could help reduce future retrofit costs. In addition, bridging technologies such as fuel-flexible energy converters, fuel storage tanks, onboard systems and shore-side fuel infrastructure can help ease the transition from traditional to carbon neutral fuels.

• biofuels • electricity • energy