Metal Shark Delivers Fire/Rescue Boat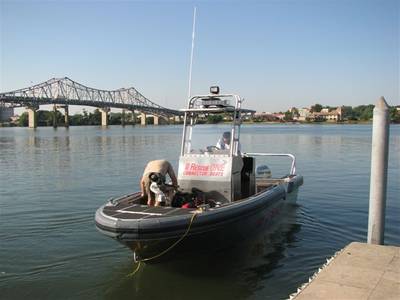 21 Relentless Delivered to Pendleton Rescue Squad.


Metal Shark Boats has completed delivery of a 21 Relentless fire, rescue, and patrol vessel for Pendleton Rescue Squad's operations in Kentucky. A custom-built derivative of the U.S. Coast Guard's SPC-SW standard platform response vessel, the boat will serve as the Squad's primary rescue and firefighting vessel. A sister craft has also been built as a demonstration platform for Metal Shark's sales team, and is currently available for testing nationwide. "Our design team recognized the nearly universal appeal of this flexible, fully-customizable platform," said Dean Jones, National Sales Manager, Metal Shark Boats. "Subsequently, we've decided to make the boat available for testing to interested agencies nationwide." Parties wishing to test Relentless should contact Dean Jones at (561) 909-9788, or via e-mail: djones@metalsharkboats.com.
Reinventing the Rescue Craft

Powered by a single 225 horsepower (hp) Honda outboard, Pendleton Rescue Squad's 21-foot Relentless speeds to fire and rescue operations at 46-plus knots or greater (depending on engine package), and features a full complement of electronics, including a Garmin chart plotter and VHF radio, as well as an LED light bar and siren. Fire suppression operations are aided by the boat's integrated, 500 gallon-per-minute (gpm) fire pump and bow monitor, while the pilot is kept dry thanks to a welded aluminum console and Lexan windscreen. With its unique, progressive-deadrise hull design, the 21 Relentless handles the shallows with ease, while still providing a comfortable ride in rough seas. Welded from heavy-duty 5086 aluminum alloy, the boat can be fully customized to suit a wide range of law enforcement, security, and response mission requirements. In addition to its unparalleled build quality, Relentless boasts an impressive array of standard features, including:


• Heavy-duty welded aluminum hull,
• Integrated urethane-sheathed foam fendering system,
• Flat deck, bow-to-stern,
• Bow deck with storage compartment and hatch,
• Port and Starboard dive reliefs,
• and pipe-style leaning post with cushion


With an optional equipment list including dive tank storage, towing bits, gun racks, electronics packages, a foam collar fendering system, and more, Metal Shark is able to tailor the 21 Relentless to even the most exacting specifications.

Specifications

LOA: 21' 0" Beam: 8' 6" Draft: 1' 6"
Fuel Capacity: 70 gallons Dry Weight: 2,700 lbs Max HP: 300 hp

Metal Shark sells directly to qualified government and commercial organizations, and custom-builds all boats to mission specifications. Metal Shark products are also available for purchase using General Service Administration (GSA) Supply Schedule 084. GSA pricing is also available to State, County, and Municipal agencies qualifying under the 1122 Counterdrug Program. A subsidiary of Gravois Aluminumb Boats, LLC, Metal Shark offers a dependable lineup of CBRN, law enforcement, military, fire/rescue, and commercial vessels ranging from 16 to 65 feet. Metal Shark's all-aluminum construction provides a solid, durable, and low-maintenance platform built to withstand extreme conditions, harsh environments, and years of abuse.


• Garmin • Metal Shark • Kentucky