MHI-MME Celebrates 20th Anniversary of MET Turbocharger License with HHI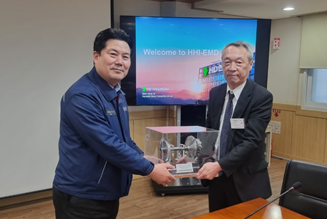 Mitsubishi Heavy Industries' machinery company (MHI-MME) has presented Hyundai Heavy Industries (HHI) with a model of an MET turbocharger rotor to celebrate the companies' 20th licence anniversary.
HHI has been the world's largest manufacturer of marine engines since it produced its first 2-stroke diesel marine engine in 1979. Today, its engine division, based in Ulsan, manufactures a large number of diesel engines for major ship builders in South Korea and China. Many of those diesel engines are equipped with MET turbochargers, and to date, HHI has manufactured over 2,000 MET turbochargers.
Separately, MHI-MME has received an order for a MET53MB turbocharger one of Japan Engine Corporation's 6UEC50LSH-ECO-C3-EGR engines equipped with a low pressure EGR system. This takes the cumulative total for turbochargers delivered for engines with low pressure EGR beyond 30 units, since the first shipment in 2018. The range has expanded over this time to include 37MB, 42MB, 48MB, 53MB and 60MB models. MHI-MME anticipates another 30 orders and expects the volume of orders to increase further going forward.