Mitsubishi Inks Deal to Supply LNG FGSS Units for 12 Ships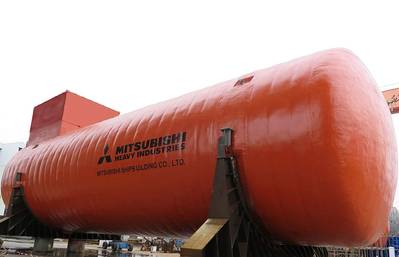 Mitsubishi Shipbuilding received orders from Imabari Shipbuilding for 12 units of its Fuel Gas Supply System (FGSS), a liquefied natural gas (LNG) fuel gas supply system for high-pressure dual-fuel marine engines. The equipment for 9 LNG-fueled car carriers and 3 LNG-fueled bulk carriers to be built by Imabari Shipbuilding Group will be continuously delivered from spring 2024.
The FGSS ordered by Imabari Shipbuilding feature an optimized cargo space layout utilizing a modular design for exceptional space-saving and maintenance access, shortened construction schedule at shipyards, and a proprietary control system that can be customized according to customer needs, contributing to both excellent operability and safety. Mitsubishi Shipbuilding previously received the first order for FGSS for LNG-fueled car carriers from Imabari Group in 2021(Note2), and this is the first order for FGSS for LNG-fueled bulk carriers. With those new orders, Mitsubishi Shipbuilding will supply a total 18 units (15 car carriers and 3 bulk carriers) to Imabari Shipbuilding, including 2 units already delivered.
In addition, for the LNG-fueled car carriers to be equipped with FGSS module which were ordered this time, Imabari Shipbuilding will install LNG fuel tanks currently being manufactured at its Nishi-Tadotsu Division where Mitsubishi Shipbuilding is also providing technical support for the manufacturing of those LNG fuel tanks.
---