Mitsubishi: JMP for Keel Cooler Pump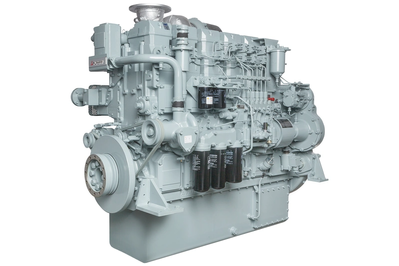 Whether it's a pushboat, longliner, ferry or box ship, maintaining an optimal temperature is essential to an engine's performance and longevity. A keel cooler pump is no place to cut corners. That's why Mitsubishi Turbocharger and Engine America, Inc. chose the reliability of JMP Corporation's JPR-ME5000 for seven of its heavy and continuous duty engines, and cites the company's ongoing support as the reason it continues to do so.
At 158 gph at 2,850 rpm, the JMP Corporation JPR-ME5000 Bronze Impeller Cooling Pump is a real performer. It has 2" NPT in and 1.5" NPT out ports. Compact and lightweight it's 8.85" L x 7.71" W x 8.58" H and weighs 34 lbs. The JMP ME5000 series with gears offers the perfect match for keel cooling applications of Mitsubishi Marine Engines' S6A3, S6B5, S6R and S6R2 series.
Mitsubishi engines have a deserved reputation for durability and fuel economy. With 25% more iron, and long stroke and low compression for reduced engine stress, they deliver long, reliable service lives.