NASSCO Begins Building Matson's LNG-ready ConRos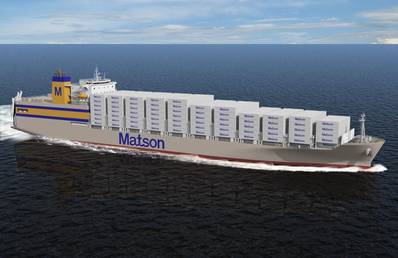 San Diego shipyard General Dynamics NASSCO said it has begun building the first of two liquefied natural gas (LNG)-capable combination containership/roll-on, roll-off (ConRo) vessels for Matson Navigation Company, Inc., a wholly owned subsidiary of Matson, Inc.

The 265-meter-long, 3,500 TEU Kanaloa class design was developed by the shipyard in partnership with Daewoo Ship Engineering Company, and incorporates Tier III compliant LNG-capable main and auxiliary engines, with accommodation for future LNG fuel gas system installation.

The first ship is scheduled to be delivered in the fourth quarter of 2019, while construction of the second Kanaloa-class vessel will begin in 2018 with delivery in the second quarter of 2020.

Once delivered, the Jones Act qualified vessels will transport containers, automobiles and rolling stock, including trailers, between the continental west coast and Hawaii.

According to Kevin Graney, president of General Dynamics NASSCO, the Matson ConRos builds, together with contracted work for several U.S. Navy ships, heave led the San Diego shipyard to hire additional manpower.

Kanaloa Class

Length: 265 meters

Beam: 34.9 meters

Draft: 11.5 meters

Containers: Approximately 3,500 TEUs, large reefer capacity

Garage: Four decks for autos, two decks for trailers and a stern quartering ramp.

Decks can accommodate up to 800 autos.

Power Plant: Slow Speed, Direct Drive Diesel Engine with Fixed Pitch Propeller

Main Engine: MAN 6G90ME-C10.5-Gl (LNG-capable)

Aux Engines: Medium Speed, Dual Fuel Diesel Generators (x4)

• liquefied natural gas • Matson Inc. • Matson Navigation Company Inc.