US Navy Orders LCS Propulsion Items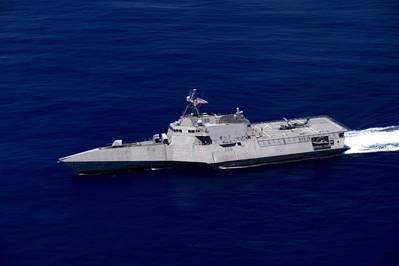 Defense Maritime Solutions, Inc. secured a contract from the U.S. Navy's Southwest Regional Maintenance Center in San Diego in support of the waterjets and seals that they originally supplied for the Littoral Combat Ship Independence Class.
The $9,135,942 firm-fixed price indefinite-delivery/indefinite-quantity contract includes four ordering year options which, if exercised, would bring the cumulative value of this contract to $60,582,873.
Work will be performed globally and defined in each delivery order. The completion of the base year is expected to be twelve months after award. If all options are exercised, work will continue through five years after date of award.
This contract was not competitively procured via the System for Award Management webpage; rather, this was a sole-sourced award, in accordance with 10 U.S. Code §2304(c)(1); only one responsible source and no other supplies or services will satisfy agency requirements.