Neu Seeschiffahrt to Implement Yara Marine's FuelOpt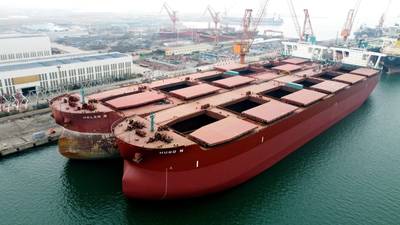 German shipping company Neu Seeschiffahrt has inked a deal to install Yara Marine Technologies' (YMT) propulsion optimization technology across its fleet of six very large ore carriers (VLOC) and two recently acquired Newcastlemax vessels in 2024.
YMT's FuelOpt system reduces fuel consumption and associated emissions by automatically adapting the vessel's propulsive power to real-time environmental conditions. YMT says the system is available for newbuilds or retrofit, and is compatible with any type of propeller or engine as well as all existing and future fuels.
William Wallace, managing director and Chief Operating Officer at Neu Seeschiffahrt, said, "Reducing fuel consumption without sacrificing efficiency is the simplest route to futureproofing cost-effective and sustainable operations. This agreement with Yara Marine Technologies is part of the new management's vision to develop a fuel efficient and competitive fleet as we continue to provide safe, reliable and cost-effective transportation services to our customers in the steel and mining industries worldwide."
Vessels retrofitted with FuelOpt have all performance and navigational data logged automatically in the vessel's performance management and reporting software. This data can be synchronized with fleet management software — such as Yara Marine's Fleet Analytics or third-party systems — to enable ship owners and operators to address the reporting requirements for by Energy Efficiency Existing Ship Index (EEXI) and year-on-year Carbon Intensity Indicator (CII) improvements.
Aleksander Askeland, chief sales officer at Yara Marine Technologies, said, "It is always a pleasure to work closely with clients who are committed to taking immediate action on emission reductions. Our industry's shift to greener operations benefits us all — and we are proud to offer a range of technological solutions that are viable, immediate and futureproof ways to decarbonize shipping."