New Combustion Concept Reduces Emissions on Wärtsilä 31DF Engine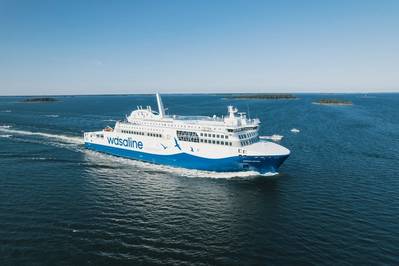 Participants in the Green Ray project have published results showing that a new combustion concept reduces methane slip from Wärtsilä's 31DF 4-stroke engines.
The researchers studied emissions from the exhaust of two Wärtsilä 31DF engines onboard the Wasaline ferry Aurora Botnia. Both engines were studied under five engine load conditions while the vessel operated on its normal route between Vaasa, Finland and Umeå, Sweden. One of the engines was piloting the new combustion concept and running on LNG, while the other was a standard setup built in 2021. Both are medium-speed 4-stroke marine engines and have 8 cylinders, with a power of 550kW per cylinder.
Overall, methane emissions were lower than what has been reported by previous onboard studies with similar-sized low-pressure dual-fuel engines. The methane emission from the DF engine piloting the new combustion concept was even lower, 50–70% less than that of the standard DF engine setup. Although the CO2 was found to slightly increase with the new combustion concept, the CO2 equivalent (including both methane and CO2) was smaller than from the standard dual-fuel engine, indicating that the new technology has the potential to reduce overall emissions.
Lower NOx and formaldehyde levels were also recorded from the new combustion concept engine, while an increase in particle emissions compared to the standard dual-fuel engine setup was observed.
The combustion technology is an evolution of the advanced engine controls developed as part of the earlier SeaTech project and is targeted at cruise ships, ferries and gas carriers.
The results of the study were published in the journal Atmosphere in May 2023 by authors Kati Lehtoranta, Niina Kuittinen, Hannu Vesala and Päivi Koponen from the VTT Technical Research Centre of Finland.
The Green Ray project is coordinated by VTT Technical Research Centre of Finland and brings together partners from across the shipping value chain: Chantiers de l'Atlantique, CMA Ships, Wärtsilä, Shell, DNV, the Finnish Meteorological Institute, MSC Cruises Management, and REVOLVE.
The five-year project, beginning in June 2022, has received a grant of €7 million from the European Commission within the new Horizon Europe research and innovation program. As well as also examining methane slip on 2-stroke engines, the project partners are developing sulphur resistant catalyst aftertreatment system for reducing methane emissions from the engine exhaust.