New Hybrid-electric Ferry Being Built for New York City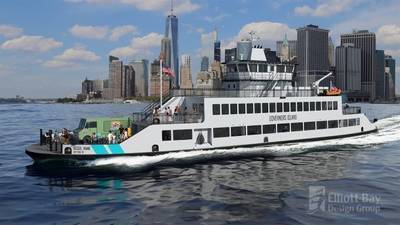 New York City is set to receive its first public hybrid-electric ferry, Mayor Eric Adams announced on Wednesday.
The first-of-its-kind vessel—currently under construction at Conrad Shipyard's facility in Morgan City, La.— will begin transporting passengers to Governors Island in summer of 2024.
It will replace the diesel-powered Lt. Samuel S. Coursen, the Trust for Governors Island's current vehicle and passenger ferry, which was commissioned by the U.S. Army in 1956 and has been in continuous use since.
Elliott Bay Design Group designed the hybrid-electric ferry and will provide technical support services to the Trust as the ferry progresses through construction.
The new ferry will be equipped with a hybrid propulsion system that will reduce air pollution by allowing it to toggle between zero-emission battery-only power and battery-assisted hybrid with diesel backup. The battery-assist mode will allow the new ferry to reduce carbon dioxide emissions by approximately 600 tons annually. Future plans for rapid vessel charging installation will enable the ferry to operate with zero-emission battery-only propulsion, at which point emissions will drop to nearly zero.
"Visiting Governors Island is a great way to support cutting-edge climate solutions, and soon, visitors will be able to go one step further just by traveling there," said Mayor Adams. "As New Yorkers transition to greener forms of transportation, the city and our partners are leading the way with cleaner, more efficient ways to go just about anywhere. The next generation deserves a green city and a vibrant Governors Island, and this first-of-its-kind ferry will help us deliver both."
"This hybrid ferry marks a historic step forward in expanding access to Governors Island while promoting state-of-the-art and sustainable technology to power our ferry fleet," said Trust for Governors Island President and CEO Clare Newman. "Each year, hundreds of thousands of visitors board our vessels and journey to Governors Island to experience our rich recreational, cultural, and educational resources. We are thrilled to make the journey easier for our visitors while helping to lead the charge in electrifying the vessels of New York Harbor."
The new ferry will have capacity to serve up to 1,200 passengers at a time. It has a cruising speed of 10 knots and features modern passenger amenities, including a lower-level ADA-accessible lounge and restrooms on each level.
"Ferries are a vital part of transportation infrastructure, lasting 40 to 60 years or more. At Elliott Bay Design Group we work closely with our clients and their teams to ensure the vessel is fit for purpose and engineered to match a long life," said John W. Waterhouse, principal in charge, Elliott Bay Design Group. "The best clients are those that truly collaborate, so the resulting vessel shows the best of designer and client. Working with the Trust for Governors Island has been a real pleasure. We believe the vessel will be a reliable component in delivering the Governors Island experience to visitors."
"We are excited to build and deliver this ferry to the people of New York City," said Johnny Conrad, chairman and CEO, Conrad Shipyard. "Since Governors Island is accessible only by ferry, we are proud that the Trust for Governors Island has selected us to play such a vital role in its growth and progress. This ferry will be the first-ever hybrid vehicle and passenger ferry in New York Harbor. Conrad is proud to be at the forefront of alternate energy solutions in the marine industry."
Ahead of the ferry's launch, Mayor Adams and the Trust launched a citywide competition to name the new vessel. All New Yorkers are invited to participate by suggesting names on the Governors Island website from today until May 25, 2023, with the final name expected to be announced in summer of 2023. The new ferry will begin transporting passengers to Governors Island in summer of 2024.