New MTU Series 2000 Yacht Engine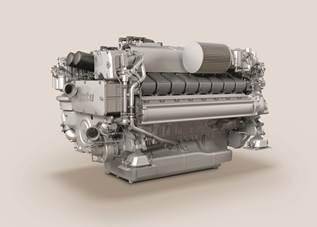 Rolls-Royce will debut its new generation MTU Series 2000 M96 yacht engine at the 2014 Fort Lauderdale International Boat Show, Oct. 30 – Nov. 3. The EPA Tier 3-compliant engine will be on display in the MTU booth (#1212) and presented for the first time in North America aboard the new Viking 92 Enclosed Bridge Convertible, the largest resin-infused sportfishing convertible hull in the world.

The new MTU 16V 2000 M96L will be showcased in the new vessel during a press conference on Friday, Oct. 31 at 11 a.m. EST at the Viking Yacht Company's D-Dock display.

Continuing its long tradition of reliable and efficient high-performance yacht engines, the MTU Series 2000 M96 generation offers enhanced acceleration and low fuel consumption in 12-cylinder ratings from 1700 bhp to 1920 bhp and 16-cylinder ratings from 2185 bhp to 2600 bhp of power, making it particularly suitable for luxury and sportfishing yachts. It is also backed by MTU's Premium Yacht Service, providing unparalleled support for the engine over its entire lifespan.

During recent sea trials with Viking, the new generation 16V 2000 M96L impressed with faster acceleration and outstanding maneuverability while powering the 92 Enclosed Bridge Convertible.

"We recently introduced our dealers to the new Viking 92 Enclosed Bridge Convertible and their feedback on its performance has been outstanding," said Bill Gibbons, senior project engineer, Viking Yacht Company. "2014 marks 50 years of excellence in luxury yachting for Viking Yacht. We have spent the last decade becoming the No. 1-selling convertible sportfishing yacht builder and selecting the new MTU 16V 2000 M96L to power our newest flagship yacht will enable us to keep that position for many years to come. We have trusted partners in MTU and we look forward to sharing the many milestones of this exquisite vessel with them."

"The new 16V 2000 M96L engines paired with the Viking 92 Enclosed Bridge Convertible is a powerful combination and one that will surely make waves during the show and at sea," said Andrew Boyer, senior sales manager, MTU America. "Because our customers demand high levels of performance and reliability, it was essential for the next generation of MTU yacht engines to create excitement and set a new standard for the pleasure craft industry."

A full system provider, MTU will also present its latest control and monitoring system, Blue Vision New Generation (BVNG), which features standard color displays, integrated start-stop control and standard shipyard interface. The system is complete with simple harnessing to enabling ease of installation.

Also on display at the show is a new Joystick System that is fully integrated to BVNG as an option. Designed for the pleasure craft market, this new Joystick System will be available in early 2015 and will offer:
Intuitive maneuverability – complex maneuvers are made more convenient by automatically and cleverly managing all the propulsion and thruster systems.
Thruster Compatibility – wide range of electronic or hydraulic OEM supplied thruster units; proportional control capability; joystick operating mode for thruster only control.
GPS-based Station Keeping – automatically remain stationary with a sophisticated GPS-based system.
Boat show attendees are also invited to visit the MTU exhibit to experience a simulation of the new Joystick System while controlling a virtual yacht.

Attendees are also invited to learn more about MTU Premium Yacht Service, a comprehensive range of services tailored to meet the most demanding customer requirements. The package includes an Extended Propulsion Coverage warranty (EPC), annual inspections and professional training for customers and their partners.



• Fort Lauderdale International Boat Show • North America • Environmental Protection Agency