New Muffler Cools Water Inside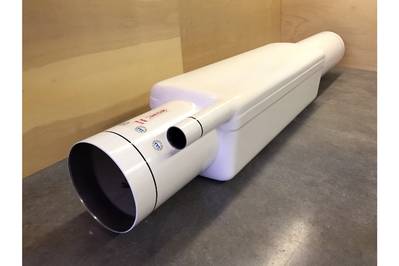 Marine Exhaust Systems introduces its new Thinline Linear Muffler with a throughport raw water bypass. The new, patent-pending design handles excess engine cooling water inside the muffler, and avoids the pitfalls of aging and often inaccessible connections and clamps.

Building on its Thinline series, the company has built a bypass cavity into the muffler to handle the water that is not required for exhaust cooling. There is no impact on the unit's performance.

Instead of having one baffle in the muffler, there are two so the excess water travels through the unit and discharges through a molded, contoured diverter. This keeps it from intermixing with the gas and exhaust water spray to avoid any back pressure issues.

The Thinline Linear Muffler with a through-port raw water bypass is very quiet. Conversations are easily heard over the engine exhaust sound.

This new model saves builders time and money, and is a safer option. It simplifies installation and eliminates the situation of having serviceable components buried in inaccessible areas of the boat. And due to its small size, there is more space in the engine room for larger fuel tanks or other equipment, making it ideal for refits.
The muffler is constructed of biaxial e-glass and flame-retardant vinyl ester resin, which offers greater durability than polyester products. 316L stainless steel crush-resistant rings are installed at all connection points.