Norled's Hydrogen-powered Ferry Enters Service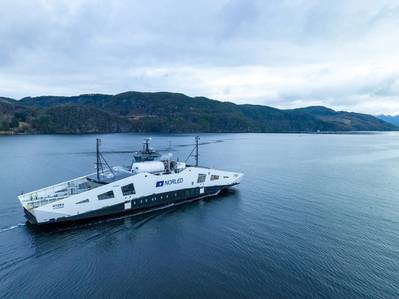 A new, first-of-its-kind ferry that runs on liquid hydrogen has entered service for Norwegian operator Norled, breaking new ground for cleaner vessel operations.
The 80-car ferry MF Hydra in recent weeks has been undergoing tests and sea trials, officially entering service with approval from the Norwegian Maritime Authority on March 31. The vessel services a triangular route between Hjelmeland, Skipavik and Nesvik in Norway, using 4 tonnes of liquid hydrogen, two 200 kW fuel cells, a 1.36—1.5 MWh battery, and two 440 kW diesel generators. The 80 cubic meter hydrogen tanks and the fuel cell are located on top of the ferry. The hydrogen is trucked from Leipzig in Germany.
Linde Engineering in Germany has supplied the hydrogen systems on board. Danish Ballard has developed the fuel cells that produce electricity from hydrogen. Westcon in Ølensvåg has been responsible for equipping and completing the vessel together with system integrator SEAM from Karmøy. Seam has also supplied the automation scope for the hydrogen system. Corvus Energy has supplied the batteries for the MF Hydra and the vessel has been approved by the DNV.
"Today will be a historic day, both for Norled and for Norway as a leading shipping nation. Today we are witnessing the world's first ship sailing on liquid hydrogen," said Heidi Wolden, CEO of Norled.
Erlend Hovland, Chief Technology Officer of Norled, said, "There are only two parties in the world that use liquid hydrogen as a fuel. These are Norled with the MF Hydra, and then the space industry using it as fuel for launches. This says something about the giant technology leap now taken for the maritime industry. After a lot of development and testing, we are now looking forward to welcoming passengers on board for a zero-emission journey between Hjelmeland and Nesvik."
No stranger to innovation, Norled launched the world's first battery-operated, propeller-driven ferry, the MF Ampere, in 2015, leading the way to an electric ferry revolution in Norway. Today, the country has around 70 electric ferries in operation.
"It's important for us to be at the forefront when it comes to technology development. Investing in innovation, sustainability, and collaboration to develop new solutions is our way of taking social responsibility," Wolden said.
Work on the MF Hydra set in motion technology advancement as well as the development of proper rules and regulations from classification societies and the Norwegian Maritime Authority to enable Norwegian passenger ships to run on hydrogen.
Director General of Shipping and Navigation Knut Arild Hareide said that it is very important for Norway as a maritime nation that we have companies who are investing in new green technology, the way Norled is doing with this hydrogen project.
"We know that there may be challenges when it comes to putting new technology to use, and it is also good that the Norwegian Maritime Authority has been closely involved in the project from an early stage, like we were when the first battery-operated car ferry was to be put into operation. This is of course a very important project for Norled, but also for Norway as a nation. The fact that we work together, businesses and authorities, to facilitate new technology development will give Norway a competitive advantage and may provide the basis for new jobs, while also making it even more exciting to work in the maritime industry," Hareide said.