Norsafe Launches New Fast Rescue and Patrol Boat at Seawork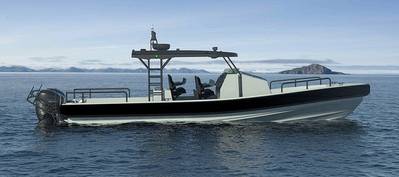 Norsafe has carried out extensive research and development in the last few years to develop a new range of robust and safe boats for the Military and Professional market.

Using the experience gained from the closed cabin 1200 and S1200 in the Munin range, an open version is now ready for sea trials and will be launched at Seawork International on July 3-5 in Southampton, UK.

The latest boat has already been tested by Norsafe's engineers together with user groups representing the coast guard, maritime police, customs and special forces. The overall feedback has been very positive.

The first open S1200 comes with a triple Mercury Verado 400 outboard installation and the same platform can be delivered with sterndrives, surface drives or a waterjet installation.

With the rigid bulwarks and D-fender configuration, the available deck space boasts an impressive flexibility and space for various on-deck operations. All main components can be reconfigured to user specific needs with the console positioned aft, midship or forward. Mission specific equipment placed on deck is safely secured to cargo rails.

Ergonomics and safety in extreme conditions have been key factors in the design and development of the console and dashboard arrangement. All main controls and switches are within direct reach of the pilot position.

The console has been designed with large flat surfaces making it easy to install additional mission specific equipment and the large dashboard can be delivered with a 2- or a 3-crew layout, depending on user needs and specifications.

From the forward deck, a robust lockable door opens up to a large cabin with standing headroom, making servicing and maintenance easy to do while providing protection from the outside elements.

The Munin S1200 open comes with two different bimini solutions. A large bimini with a full height windscreen offers a protected cockpit, yet with open access to the surroundings of the boat. This offers a robust and large flexible mounting platform for sensors and equipment.

The second option comes with a short windscreen and a short bimini only covering the area above the dashboard. The short bimini works as a mounting platform for navigational equipment. It folds forward to reduce transportation height.

The boat is designed to ensure that crew and passengers feel comfortable in all sea conditions with ergonomically designed helm and either shock absorbing seats or high-end saddle seats with laminated foam core covering for maximum comfort. All can be customized to client specifications. The rigid construction reduces and avoids excessive noise and slamming.

When moving around the Munin S1200 open there are grab-rails, robust anti-skid surfaces in step zones and ample work lights available when needed. Furthermore, the main deck is flush and without steps, making it safer and easier to move around at night.

Large open scuppers on both sides of the stern makes the cockpit effectively self-draining with large storage rooms below deck.

Technical data of the Munin S1200 open:
Length overall: 12,03 m
Beam max: 3,53 m
Height max: 3,97 m
Capacity: 12 pax (RCD)
Light displacement: 5.100 kg (RCD)
Max load: 2.500 kg
Max displacement: 7.600 kg
Hull/deck material: Vacuum infused glass reinforced Vinylester

The Munin S1200 open will be available for testing at Seaworks 2018.


• navigational equipment • United Kingdom