Perkins Marine Unveils Two New Auxiliary Engines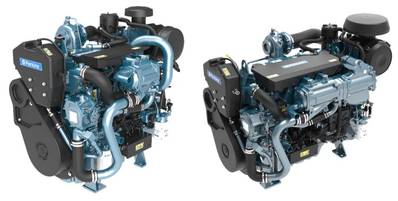 Perkins marine is set to launch its new Perkins E44 and E70B auxiliary engines for use on inland waterways, tugs, governmental, fishing and ferry services.
The new Perkins E44, an electronic 4.4 liter, 4-cylinder engine and the evolved E70B offer a broad range of power ratings and factory configurable power solutions to meet boat operators auxiliary power needs, the manufacturer said.
"Our customers require more, and we are here to meet their expectations," said Ben Lewis, sales support manager at Perkins marine engines, noting the electronic engines are highly engineered and durable as Perkins understands that high engine uptime is a priority. "Customers in need of auxiliary power with a high-power density without compromising fuel efficiency or additional noise, need to look no further."
The E44 and the larger, more powerful E70B come with a 500-hour interval service and with low maintenance features, Perkins said. A self-priming fuel system, no zinc anodes, automatic valve lash adjustment and self-tensioning belts translate into exceptional uptime.
Targeting end users including generator set packagers and hybrid propulsion packers in the workboat, inland waterways, tug and large yacht/superyacht sector, customers can choose from multiple cooling options, depending on the application, repower and ease of integration. All engines are designed and assembled in the U.K.
Perkins said the engines are compact in their design and simple to install with easy plug and play features for a complete turnkey solution. They also offer easy access to service points and factory configuration is available. The new E44 and E70B are scheduled for release in quarter 4, 2023.
E44 ratings
71 bkW (95 bhp) to 108 bkW (145 bhp) at 1500 rpm
71 bkW (95 bhp) to 129 bkW (173 bhp) at 1800 rpm
E70B ratings
109 bkW (146 bhp) to 163 bkW (218 bhp) at 1500 rpm fixed speed
128 bkW (171 bhp) to 216 bkW (289 bhp) at 1800 rpm fixed speed
129 bkW (173 bhp) to 186 bkW (249 bhp) at 2400 rpm variable speed
The E70B meets IMO II, U.S. EPA T3 and EU V emissions standards on ratings below 130 bkW, whilst the E44 meets U.S. EPA T3 and EU V – falling below the minimum requirement for IMO certification.
Both platforms are available with full MCS approval on request.